3GBGC Reports - Tuesday 17th April
Maximising effects - International Agendas, Conservation Action and Paradigm Shifts

Climate change was a major focus today, with both afternoon sessions and a plenary from David Bramwell of the Viera y Clavijo Botanic Garden in the Canary Isles - site of the Second Gran Canaria Declaration, investigating the role of botanic gardens in addressing climate change. Sara Oldfield presented a call to action on the dangers being faced by plant species, with the threats and potential solutions identified. Professor Hongwen Huang provided a model for research and development in botanic gardens, bringing the different aspects of garden work together.

Lunchtime network meetings for Africa, America North and Latin America aided partnerships and collaboration, with cooperation and understanding being developed between gardens and organisations.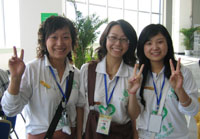 Volunteers from Wuhan universities assisted delegates throughout the congress
Several longer symposia in the afternoon highlighted key issues and challenges facing the botanic gardens community. David Galbraith, Royal Botanic Gardens Hamilton, Canada, chaired a session addressing the International Agenda for Conservation in botanic gardens and the benefits offers signatories. Marcela Sanchez of the Institute of Biological Resources in Argentina said "The key to the agenda is that it provides a framework for the work we are doing - in my country it is particularly useful to have a timetable to focus our conservation efforts. The agenda also helps to involve and empower local governments to demonstrate the need for plant conservation."

Examples of community involvement and consultation came from Jeremy Hawker of Christchurch botanic garden in New Zealand. The garden discovered that the local people knew more about native plants than had been assumed and in response the garden has created a native plant garden. David Galbraith said the International Agenda was useful for Canadian botanic garden in addressing their current provision, the gaps and future developments that would be possible, in accordance with their own mission and aims and objective. BGCI's Douglas Gibbs provided an overview of the international agenda and its implementation by gardens around the world. Following the session Carlos Villamil commented "Internationally, the Agenda should be used as a frame for work and planning, but at the same time, gardens need to be using their own country botanic garden action plans to provide direction."

Responding to the challenge of climate change was the heavy-weight subject for another symposium. Case studies outlined issues, including loss of habitat, loss of species and species vulnerability. Marko Hyvarinen presented the situation in Finaldn, where changes in climate will have a dramatic impact on rainfall, average temperature and salinity of the salt marshes. This threatens key remnant populations of plants such as the Siberian primrose, glasswort and Artic pendant grass. Potential mitigation actions for species were discussed, such as the use of Important Plant Areas (IPAs), seed banking, and public involvement in monitoring and investigating the scale of the problem.

Another session included a discussion of the way Target 14 of the GSPC is being implemented around the world, not just by botanic gardens, but by other institutions and through site-based communication, education and public awareness programmes. The results from workshops in eight countries around the world were presented -these are being taken to the SSBSTA meeting this summer and then to COP 8 in July 2008.

Methods of conserving and utilising native flora with case studies from Spain, South Africa, Estonia, Australia, Brazil and Russia provided some interesting ideas for further development. Bernard Harrison, ex-director of Singapore Zoo, shook up a session looking at visitor research; "Botanic gardens have a moral and ethical responsibility to use their expertise in the most effective ways possible for plant conservation. Gardens are not seen as an exciting and fun day out - so our visitor numbers are limited, there will always be some people who are not attracted to the idea of visiting a garden. To reach these people, we must start thinking outside the box and produce a new paradigm for botanic gardens, just as Cirque du Soleil has done for circuses. Using unique selling points and making the most of creating a multi-sensory experience for visitors, including their retail and dining provision, gardens can develop a new image and gain new audiences"

Baroness Joan Walmsley, chair of BGCI's board of directors treated the BGCI staff, Wuhan congress organisers and VIPs to a banquet of Chinese specialties, drawing this stimulating and fascinating day to a close.

Sarah Kneebone
Congress Correspondent
BGCI
Wuhan
Read Sarah's other reports from the Congress: Sunday - Monday - Wednesday - Thursday - Friday - Summary