3GBGC Reports - Sunday 15th April
Celebrating 70 years of plant conservation success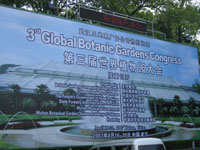 There was publicity for the congress everywhere, including at the entrance to the Wuhan Botanic Gardens
Dancers, music, lights and feasting accompanied celebrations on Sunday night for the 20th anniversary of BGCI and the 50th anniversary of Wuhan Botanic Garden, the hosts of the third global botanic gardens congress. Delegates enjoyed an evening visit to the Wuhan Botanic Garden, a lush green oasis in the heart of industrial Wuhan, a conurbation formed of three cities, Hankou, Hanyyang and Wuchang, at the convergence of theYangtze and Han Rivers. The gardens boast a beautiful new glasshouse, filled with endangered native species, temple, a misty dell, huge medicinal plants garden and a kiwifruit germplasm bank.

For this special occasion, one of the garden's lawns was converted into a stage an seating area, surrounded by an assortment of stalls offering a variety of tasty Chinese delicacies, from air dried pork to tiny sweet mangos. On stage gracious speeches of welcome from the Chinese Academy of Sciences, Wuhan Botanic Garden and Wuhan City were followed by dancing and singing, including the glittering 'Pipa singing with action – Melts the Butterfly'.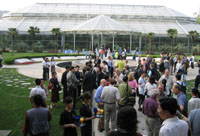 The Welcome reception allowed delegates to enjoy an evening stroll around the garden.
During the day, delegates had been arriving, either from their own countries or from the pre-congress tours, settling in, meeting old friends and colleagues. The pre-congress tours were much enjoyed – Tom Keay, of the Eden Project, took part on the Suzhou and Hangzhou classic garden tour "the garden visit was very enjoyable, it was great to be able to visit so many gardens and learn what they are doing". The bulk of the BGCI UK staff arrived in Wuhan on Saturday night, following a gruelling 27 hour journey – 8 hours of which were spent in Beijing airport, and 2 hours of that sat on the tarmac in a broken plane…..
On arrival in Wuhan we were delighted to be greeted with a warm and enthusiastic welcome from a small party of volunteers, whose mission it was to see us safely to our hotels. They represented but a taster of the helpfulness of the volunteers at the congress, there are reputed to be over 100 students, mostly English or biological science majors, from the local university. Such are the numbers that there is 1 volunteer for every 6 delegates, so one is never far from help.

The press are also out in force, as the congress is big news in Wuhan. Journalists and photographers swarm over delegates in the hope of a pithy sound bite or two – it is said that the attention is going to some delegates' heads. The congress has already appeared on page two of the most widely read Wuhan paper – one of the army of volunteers estimated it has a circulation of 8 million. This is of course great publicity for BGCI and its members.

Most of the day on Sunday was made up of workshops, covering a wide range of subjects vital to botanic gardens. Considering the early start and jet-lagged condition of many delegates, the turn out was extremely good. Sessions included Diane Wyse Jackson introducing and discussing the development and use of BG recorder – an accession database developed by BGCI. Vera Poon from Kadoori Botanic Garden, Hong Kong, ran a practical group on using the internet as a communication tool, essential in today's technology-focussed world. Using red data listing for classifying species according to their risk of extinction was explored by George Schatz from Missouri Botanic Garden, USA. Philip Ainsley of the Botanic Garden of Adelaide stepped into the breech for a successful session on translocation of threatened plants, based on the excellent Australian Network for Plant Conservations guidelines on the subject.
Professor Gomez-Campo from the University of Madrid discussed efficient seed preservation, while a lively and productive session was enjoyed by those taking part in the Education for Sustainable Development workshop – led by Julia Willison, BGCI's head of education. More information on ESD can be found on the BGCI website.

The evening's entertainment was enjoyed by over 1000 delegates, guests and officials. It was only when the lights faded and the bats came out in force that the coaches arrived to transport everyone back to their hotels for a well-deserved beer and bed!

Sarah Kneebone
Congress Correspondent
BGCI
Wuhan
Read Sarah's other reports from the Congress: Monday - Tuesday - Wednesday - Thursday - Friday - Summary