Education at the heart of new garden in Finland
EDUCATION
3 April 2009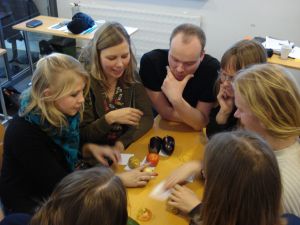 Participants trying out a critical thinking exercise during the workshop
In preparation for the opening of Kumpula Botanic Garden in Helsinki this June, staff from the Natural History Museum and Helsinki Botanic Garden came together for a one and a half day education workshop on March 30 2009 run by BGCI. The main focus of the education workshop was interpretation. Staff participated in a range of educational activities and learnt about the diversity of education programmes run in botanic gardens worldwide. Useful discussions took place about target groups and themes and, within this context, staff have begun planning new educational activities for when the garden opens. Dr Leif Schulman, Director, said 'Kumpula Botanic Garden will play a major role in education in Helsinki. We are fortunate to count on an excellent team of education staff who will be working in partnership with us alongside the Natural History Museum and Geological Museum. Relationships with other botanic gardens will be important for the development of effective education programmes and we are delighted to work with BGCI on this'.
The workshop was run by Julia Willison, Head of Education who was also a guest lecturer on the first ever course for university students in Helsinki on the functioning roles of modern botanic gardens.
Kumpula Botanic Garden will be inaugurated on June 10 during Eurogard V. The garden is located 3km to the North of the city and is 6ha in size. Its collection of plants is unique. Every species has been collected from a wild source growing in climatic zones similar to Finland.
For more information about the Kumpula Botanic Garden contact Dr Leif Shulman leif.schulman@helsinki.fi