'Making friends with flowers' success!
NEW YORK AND CHINA
23 March 2009
The 'Making friends with flowers' (MFWF) programme, organised by BGCI, Others Are Us (OAU) and Brooklyn Botanic Garden (BBG), was held in South China Botanical Garden on 17th January. See this story in Chinese here.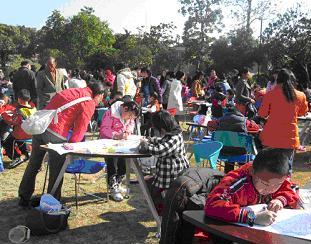 More than 200 students, aged from five to fifteen, teachers and parents participated in this programme. Using a dictionary of flower language created by OAU, they drew bouquets dotted with animals, insects, photographs and other images, together with their greetings or wishes both in Mandarin and English, which will be exchanged with families in New York. The programme was very successful.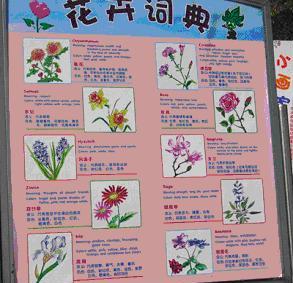 It is hoped that the event will be annual occurence. It is a family art and international cultural connections program which uses art as language. Through exchanges of theme-based drawings, children are able to 'speak' directly to one another from their life experience, sharing what it is like to be a child in their country and culture. By using the medium of art, children can record and communicate their thoughts, feelings and information in a form that can be understood by any other child anywhere in the world without the need for adult intervention. MFWF focuses on the universal use of flowers to send messages to others.
All the artwork created during the programme can be seen at the Others Are Us website.
Following the success of the January event in China OAU are running an expanded 'Making friends with flowers' programme at Brooklyn Botanic Garden on 7th June 2009, at the peak of rose season. OAU are actively encouraging more botanic gardens to get involved with this successful programme - get in touch with them if you'd like to be involved!