International Diploma in Botanic Garden Education
Botanic Gardens Conservation International (BGCI) and the Royal Botanic Gardens, Kew offer a five-week course in botanic garden education every two years.
The latest course took place between 12th May -13th June, 2014 and offered training about botanic garden education in all its forms to nine professionals from botanic gardens in China, Canada, Oman, Latvia, Greece and Norway, who represent novice educators, but also experienced curators, horticulturalists, teachers and plant scientists. Find out more.
Currently the course is being reviewed and there are no future dates planned. If you are interested in attending a course on public engagement/education in botanic gardens in the future please express your interest by sending an e-mail to Liliana Derewnicka liliana.derewnicka@bgci.org
Course Rationale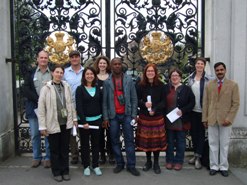 Participants of the 2012 diploma course

Botanic Gardens, with their amazing varieties and numbers of plants, are superb centres for environmental education. The millions of people that visit botanic gardens each year provide a unique opportunity for gardens to influence public attitudes towards plant conservation and the environment.
As concern grows for the detrimental effects that human activity is having on the environment, the need for botanic gardens to become more involved in education has never been so critical.
To run environmental education programmes and to work towards the implementation of Target 14 of the Global Strategy for Plant Conservation (GSPC), Botanic Gardens Conservation International and Royal Botanic Gardens, Kew (RBG Kew) run the international diploma course in education for botanic garden staff. The aim of the course is to equip participants with the necessary education skills and strategies to communicate effectively to their varied audiences.
The emphasis of the course is on interactive learning and the application of skills to the participants' working context.
The course programme includes input from guest speakers and visits to museums and gardens running educational programmes. Participants will be given plenty of opportunity to exchange ideas and experiences with each other.

Endorsement
This course has been enthusiastically welcomed and endorsed by a range of international bodies.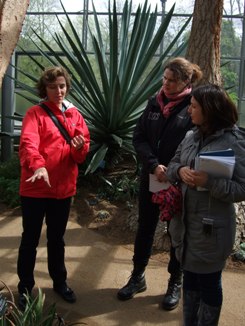 The Diploma course emphasises practical learning and development of skills
What Can I Expect to Learn?
By the end of the course, you will have all the knowledge and insights needed to create educational strategies for your site.
To facilitate this, the course includes the following topics:
An overview of teaching and learning in botanic gardens
An exploration of the history and development of education for sustainable development, including environmental education.
Identification of target groups, including informal and formal audiences
Interpretation – principals and practice
Life long learning strategies – working with teachers, school children, adults and communities
Marketing
Intellectual and physical access to sites
Fundraising
Monitoring and evaluation
Networking, partnerships and collaboration
Strategic planning
Project management
Individual project work
What is the Course Structure?
This course consists of a four-week taught module, followed by a one-week project based module.
All participants will also be required to complete and submit a project within four months of completing the course. The project provides a practical focus for the taught element and acts as a basis for the application of skills and knowledge obtained from your studies.
How is the Course Taught?
Through a combination of lectures, workshops, seminars, practical activities and field visits, this course enables participants to develop their skills in a range of botanic garden education strategies.
Lecturers include recognised authorities in their fields, with staff from a range of disciplines at the Royal Botanic Gardens, Kew, Botanic Gardens Conservation International and other international institutions and organisations and UK universities.
Course notes will be produced to accompany the course. All course notes and lectures will be in English. Participants should therefore have a good command of English, including knowledge of the appropriate technical terms.
The course is intense and participants will be expected to undertake study and prepare pieces of work outside of course hours.
How is the Course Assessed?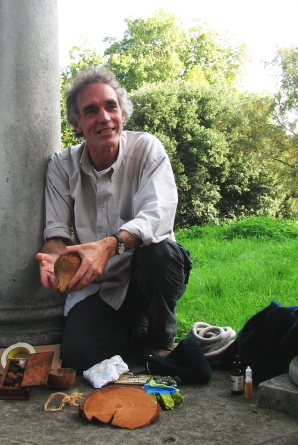 Your tutors are experts in a range of fields

For the award of the International Diploma in Botanic Garden Education, participants will be assessed by:
- a written project



- a written examination with short answer and multiple choice questions



- a written reflective journal, produced during the course

All assessments are moderated by an external examiner.
Successful candidates will receive the International Diploma in Botanic Garden Education. Candidates who complete the course but do not achieve a pass standard will receive a certificate of attendance.
Who Should Apply?
The course is designed specifically for those staff responsible for education in a botanic gardens and allied disciplines. You may be working in, or planning to work in, the field of biodiversity, botanic garden or environmental education or education for sustainable development
Candidates must have good conversational and written English, and a knowledge of the appropriate technical terms.
Whilst aimed primarily aimed at colleagues from developing countries, participants from other countries are encouraged to apply.
What are the Course Objectives?
To explore the key issues relating to environmental education
To enhance participant skills and understanding so that they can effectively design and implement educational programmes for appropriate audiences
To facilitate the development of educational strategies related to each participant's institutional context
To develop contacts and communication channels with other professionals working in environmental education and education for sustainable development.
Course Fee: £2,300
The course fee covers:
all tuition;
course notes;
external trips and visits.
Please note, the course fee does not include accommodation or subsistence costs.
Scholarships
Grants are available from a variety of bodies and help in locating these can be provided by the Royal Botanic Gardens, Kew and BGCI. However, it is the responsibility of each participant to secure their own funding and to inform the course organisers. Funding is currently being sought to try to establish some bursaries for this course.
There may be a limited number of scholarships avaliable. Potential applicants must complete the international diploma course application form (see below) and also a funding application form - download here as a word document or a PDF.
Accommodation
Participants will be sent, on request, a list of suitable accommodation in the area. Participants are responsible for booking their own accommodation and the costs of accommodation are not included in the course fee.
Estimated cost of accommodation for 2016 is approximately £150 per week – this is subject to change.
Subsistence
Participates will also need funding to cover subsistence costs. This is to cover all lunches and evening meals, and any additional transport.
Estimated subsistence cost for 2016 is approximately £100 per week – this is subject to change.
Social Events
For many participants, the course is their first time in the UK, so the itinerary includes opportunities for various social outings and events, for example to the theatre, museums, or tours of London. These may be arranged by the course organisers or participants.
Applying
Currently the course is being reviewed and there are no future dates planned.
For an application form, please download here as a word document or a PDF. Please note, applications must include
A copy of your curriculum vitae
A letter giving your reasons for applying for this course. Please include details of how this course relates to your current or future work and which skills/knowledge you hope to gain from the course.
A recent passport-sized photo of yourself
Details of English language qualifications if appropriate and copies of certificates
Further Information
Read the testimonials from the 2006 group of students to get an idea of why they took part in the course and what they got out of it


The mission of Botanic Gardens Conservation International is: To mobilise botanic gardens and engage partners to secure plant diversity for the well-being of people and the planet.

The mission of Royal Botanic Gardens Kew is: To enable better management of the Earth's environment by increasing knowledge and understanding of the plant and fungal kingdoms – the basis of life on earth