8th International Congress on Education in Botanic Gardens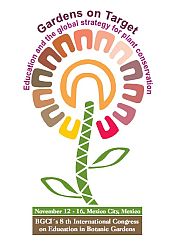 BGCI Education Congress Summary Report
Education and the GSPC

From 12-16 November 2012, BGCI's 8th International Congress on Education in Botanic Gardens was held in Mexico City and hosted by the Institute of Biology Botanic Garden at UNAM, a world renowned organisation of excellence in plant conservation, education and botany.
This is the first time BGCI's Education Congress has been held in Latin America. We were delighted to receive 150 delegates from 31 countries with 11 delegates supported to attend the congress through the Sylvia Scholarship scheme (click here to read what attending the congress meant to them).

The theme of the Congress was Education and the Global Strategy for Plant Conservation. During a stimulating week of key note speeches, presentations, workshops and posters, delegates examined how their education work can support the implementation of all 16 targets of the GSPC. It is impossible to mention all the excellent presentations at the Congress. However, below we highlight the work of several gardens within the five sub themes of the Congress:
Theme: Knowledge and understanding
Knowledge about plants is fundamental for deciding priorities on which plants to conserve. Target 1 of the GSPC is to produce an online flora of all known plants while Target 2 is about assessing their conservation status. The congress found that most botanic garden education programmes incorporate the naming of plants and their conservation status into their programmes with a number focussing on specific plants and their roles in people's lives. For example, Gaspar Xuarez University Botanic Garden, Argentina, runs a programme with school children to recognise and plant native trees near their school. The National Botanic Garden Dr Rafael Ma. Moscosa in the Dominican Republic, in collaboration with the Department of Education, has initiated a Project to ensure school children recognise their native flora, Quindio Botanic Garden in Colombia runs practical programmes with school children where they prepare morphological descriptions of plants and herbarium specimens and Xishuangbanna Tropical Botanical Garden, China provides discovery maps that have been designed with the help of educational psychologists. Research has shown that the maps encourage greater engagement in environmental education, including an increase in plant knowledge.
Theme: Sustaining our Natural Capital
As the world's economies continue to focus on consumer growth and populations increase in size, the challenge of sustaining our natural capital is becoming ever more critical to address. The GSPC includes ambitious targets to conserve our natural capital –including ecological regions and agricultural lands as well as individual plant species. It also states that we need to do this within the context of respecting indigenous and local knowledge. The congress highlighted the fact many gardens are collaborating with indigenous peoples to develop programmes that raise awareness about their culture and plant knowledge. Several gardens are also located within or next to important ecological regions, raising awareness to a range of different audiences, including tourists, about how they sustain this habitat and its intrinsic value. For example, Kings Park and Botanic Garden, Western Australia, collaborates with the Nyoongar people to provide interpretive signage that are read by millions of visitors. With more than half the world's population now living in urbana areas, Missouri Botanical Garden, USA, provided an interesting contribution looking at how the Garden is investing in and influencing the development of sustainable community ecosystems which could serve as a model for other Gardens.
Theme: Plants, economy and culture – have we got the balance right?
Several programmes demonstrated the power botanic gardens have to change attitudes about the importance of using plants sustainably. For example, the Institute of Biology Botanic Garden, UNAM, through their work with farmers in the north of Mexico to preserve traditional farming practices and to emphasize the nutritional and economic importance of the consumption of milpa products. Workshops also highlighted the importance of promoting critical thinking to support the change of behaviours towards the consumption of products that are sustainably produced. For example, at the Botanic Garden and Museum Berlin-Dahlem, Germany, students explore through debate and hands on activities, the impacts of using palm oil on the environment and society. Sustainability was practiced as much as possible during the congress with the materials provided and the food. For example, the wonderful congress dinner with regional food based on the local flora.
Theme: Connecting people to plants – learning to live more sustainably
This congress overwhelmingly demonstrated that botanic gardens have the ability to communicate effectively, educate and raise public awareness about the importance of plant diversity. For example, the University of Warsaw Botanic Garden and the Royal Botanic Garden, Sydney provide nature experiences for urban children, the University Ecopark at the University of Carabobo, Venezuela, trains guides to communicate the Ecopark's messages to a wider audience and the Institute of Biology Botanic Garden, UNAM, Mexico every year organises the National Day of Botanic Gardens which involves their academic personnel in creating and developing activities for thousands of visitors.
Nevertheless, there is a sense we still have much to do to reach all levels of society, including policy makers and the general public. Kew have gone a long way to addressing this through developing on-line digital content and the use of phone apps to transform leisure activity into an educational experience. The importance of botanic gardens developing their social role to reach out to their diverse communities, was emphasised during the congress. Many gardens programmes demonstrated that they have years of experience of addressing social and environmental issues with their communities. For example, Bordeaux Botanic Garden in France partners with the social services to provide fresh produce for homeless and unemployed people, Culiacan Botanic Garden, Mexico, works with young people is aiming to reduce violence within their society and Cambridge University Botanic Garden, UK who work with a range of socially excluded people including young carers, visually impaired people and children who have been bullied at school. Good examples of how projects can be scaled up is evident with the Fairchild Challenge, where gardens in the US, Mexico and Venezuela have all successfully worked with schools to raise environmental awareness through a series of challenges and The Morton Arboretum, USA, who have developed a traveling exhibit to educate people about the status of globally endangered trees and role they play in sustaining livable communities. In 2013, the exhibit will be showcased in China.
During the congress delegates were asked to vote for their favourite plant conservation message and to suggest new messages. The most popular messages included:
• Biodiversity is Life. All life depends on plants
• Plants: We breathe because they do
• Bread feeds the body but flowers also feed the soul. The Koran
• Don't blow it, good planets are hard to find
• What is a bee without a flower? A bird without a tree? An elephant without grass? An animal without a habitat. You can't have one without the other
BGCI will be taking these messages and working with a designer to produce artwork that can be used by all gardens and institutions to promote plant conservation.
Theme: Training and collaborating for change
To achieve all targets of the GSPC, it is essential to build the capacity of staff in a range of disciplines, including education, public awareness and communication. Several presentations highlighted the range of training offered at the botanic garden level, for example, Christchurch Botanic Gardens, New Zealand runs training programmes to build the capacity of their staff in guiding techniques while Singapore Botanic Garden runs training programmes for educators and student leaders to spread environmental messages in their communities. At the national level botanic garden networks in Argentina and Mexico have offered a range of technical training for staff while Belize Botanic Garden has encouraged students seeking careers in conservation or natural resource management to pursue internships. At the international level the Royal Botanic Garden Edinburgh offers a practical certificate of horticulture and the Royal Botanic Gardens, Kew offers an international diploma in botanic garden management and education. Another way of collaboration was showcased by the INQUIRE projects, a consortium of European botanic gardens training educators to promote inquiry based science education on climate change and biodiversity conservation.
Key congress thoughts

• Something that is innovative in one context may be established in another context. We need to share!
• We are living in a digital age. There is an opportunity for gardens to develop content that can be shared by the whole botanic garden community
• Big budgets are useful but they are not the key to successful education programmes. Enthusiasm, creativity and commitment can transform a low resource garden into a great educational centre
• Botanic gardens are becoming important training centres, focusing on teachers, horticulturalists, community leaders, health professionals and botanic garden staff
• It is important to capture and connect people with nature from early childhood. Many gardens are developing educational and play spaces for their youngest visitors.
• The 21st Century is presenting us with immense environmental and social challenges. Botanic gardens need to find ways to link their programmes to these issues and to work with their communities to develop solutions
• Inquiry based science education provides a good model for botanic gardens to apply in their practice to enthuse young people in science and promote science as a possible career.
• Partnerships with different organisations can provide expertise that is missing in the botanic gardens when they want to develop new areas of work.
• Secondary students are challenging to engage with. Encouraging them to become garden ambassadors can ignite their interest in plants.