Plant Conservation
There is a growing recognition that biological diversity is a global asset of vital importance and value to present and future generations.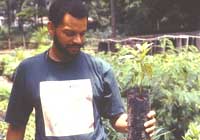 Despite our reliance on plants, crisis point has been reached -Although much work remains to be carried out to evaluate the status of the world's plants, it is clear that between 60,000 to 100,000 plant species are threatened worldwide.
Plants are endangered by a combination of factors: over-collecting, unsustainable agriculture and forestry practices, urbanisation, pollution, land use changes, and the spread of invasive alien species and climate change.

Urgent measures must be initiated in all parts of the world to safeguard the global biological heritage. A fundamental requirement for sustainable living is to integrate conservation and development.

Botanic gardens worldwide play major roles in science, horticulture and education. In the last few decades, they have also become importance centres for biodiversity conservation, playing a role in integrating conservation and development.

BGCI encourages and supports botanic gardens to take a leading role in plant conservation, and become responsible for their own national plant collections. The Global strategy for plant conservation and the International Agenda provide gardens with a framework and objectives to work towards to achieve common aims.

Report of the paper "Plants in Peril: What Should We Do?" given by Dr Peter Raven, Director, Missouri Botanical Garden, St. Louis, U.S.A. and President of the XVI International Botanical Congress at the XVI International Botanical Congress in August, 1999 hosted by the Missouri Botanical Garden.