Influencing Decision-Making and Policy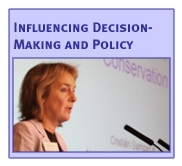 BGCI is well-known and widely respected for its role in policy development and implementation relating to plant conservation. It is, for example, generally acknowledged that without the policy work of BGCI, the GSPC would not have been developed and adopted by the Convention on Biological Diversity.
BGCI is a full partner with Fauna and Flora International in the Global Trees Campaign and provides the Secretariat for the Global Partnership for Plant Conservation.
Over the next five years, BGCI will continue to maintain its position as a leading advocate for plant conservation, with specific aims to:
Act as a leading advocate ensuring that the conservation and sustainable use of plant species is fully addressed by international biodiversity policy and related agreements with a focus on CBD and CITES to support all the targets of GSPC
Promote the work of botanic gardens related to plant diversity conservation, human well-being, environmental education and climate change to policy and decision makers, as well as the wider public, both nationally and internationally
Engage with policy makers and wider society to ensure that the CBD continues to pay full attention to the conservation and sustainable use of plant species beyond 2010, addressing the urgent threat of climate change.
Ensure mechanisms are in place to facilitate informed decision making by forging links between conservation best practice and biodiversity policy.