Botanic Gardens: Using Biodiversity to Improve Human Well-being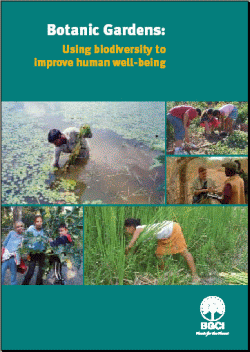 Author: Kerry Waylen

Recommended citation for this report:
Waylen, K., 2006. Botanic gardens: using biodiversity to improve human well-being. Botanic Gardens Conservation International, Richmond, UK.
The ISBN of the report is 1905164084. If you have any queries or comments about our work, please email wellbeing@bgci.org.
---
Two of the biggest challenges faced by human kind are the conservation of our environmental resources and the elimination of poverty. It is increasingly recognised that these problems are interlinked: the goods and services provided by natural resources are needed to improve well-being, whilst for conservation to succeed it must relate to the poor's needs. This is reflected by all major international policies focused on development or conservation, such as the Millennium Development Goals, and the Convention on Biological Diversity. BGCI believes that biodiversity conservation and poverty reduction must be linked if we are to succeed in either aim.


This report highlights how botanic gardens across the world are involved in a variety of projects that use biodiversity to improve human well-being and is based upon an extensive literature survey, and a multilingual survey of BGCI's members. For the purposes of the report, BGCI has divided human well-being into four main areas: (1) improving healthcare, (2) improving nutrition, (3) alleviating financial poverty, and (4) improving community and social relations. The many case studies within the report illustrate how botanic gardens across the world are contributing to these aspects in many diverse ways.


Many botanic gardens promote improved nutrition and health through their support of home gardens. Their horticultural skills and ability to propagate plant materials often prove invaluable in this respect. For example, Aburi Botanical Garden in Ghana has been improving local access to medicinal plants by empowering local communities to set up medicinal gardens. As well as establishing a model home garden, it gives a wide range of lectures, seminars, workshops and demonstrations, distributes manuals and provides seedlings to enable communities to set up their own nurseries and first aid gardens. There are many other ways that botanic gardens work for well-being, from developing and hosting horticultural therapy programmes, to educating children about healthy eating, and training disadvantaged minorities in useful skills. Around the world, botanic gardens are also helping local communities to develop income generating projects, such as the production of handicrafts, based on the sustainable use of plant resources.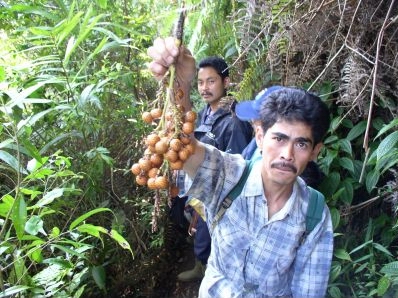 Rattan collecting in Indonesia (BGCI)
This report also illustrates how various activities of botanic gardens underpin their ability to conduct projects that address well-being issues. Education and research are core strengths that need to be supported and directed to ensure they can continue to link plant diversity with human well-being. For example, many gardens have strong emphasis on research relevant to the development of useful plants in use in agriculture and healthcare. A typical example is Kisantu Botanic Garden in the Democratic Republic of Congo, which conducted trials on the popular fruit mangosteen, to enable farmers to extend the shelf-life of the harvested fruit, and so reach a larger market. Other gardens, such as Botanic Garden "Fundación Xochitla" in Mexico, have focused on developing plants to be locally cultivated for use in the ornamentals market.

Well-being projects are not limited to developing countries. In developed countries urban greening projects can make a significant contributions to improving neighbourhood environment and community relations. Sometimes well-being projects involve collaboration between gardens, linking well-resourced gardens with those in an early stage of development, or with little financial support, and in many cases the unique role of botanic gardens is complemented by partnerships and collaborations with non-botanic garden institutions, such as local healthcare clinics.

Botanic gardens are clearly much more than just "pretty places". As this report illustrates, they are uniquely placed to use plant diversity to contribute to human well-being. Given the scale of the crisis facing our efforts for both conservation and development, BGCI believes that it is an ethical and practical imperative that botanic gardens are mobilised for this goal.
---