Foundations Laid for a Thai National Network
THAILAND
8 October 2007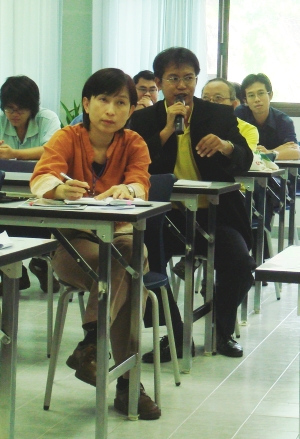 In January 2003, Thailand became the 188th member party of the Convention on Biological Diversity (CBD).
However, projects relating to the 2010 targets have not been officially launched (ONEP, 2006). There is still a general lack of awareness of the Global Strategy for Plant Conservation (GSPC) among concerned agencies and resource personnel.
There are about 45 botanic gardens and 50 arboreta in Thailand, under the administration of various government institutions and the private sector. While BGs and related institutions in Thailand have great potential to contribute towards plant conservation, there is often a lack of understanding among staff of what botanic gardens and institutions have to offer in regards to the GSPC. Another constraint has been limited institutional coordination of plant conservation efforts.
To address these deficiencies, the Queen Sirikit Botanic Gardens (QSBG), with support from BGCI, conducted a two-day workshop on the GSPC on September 20-21, 2007. The workshop attracted a total of 70 participants from universities, herbaria, botanic gardens, national parks, and other government agencies involved in plant conservation.
Dr. Peter Wyse Jackson, director of the National Botanic Gardens, Ireland, and one of the chief proponents of the GSPC, gave several presentations during the workshop, and Mr. Bian Tan, South East Asia Programme Coordinator (BGCI) assisted with facilitating the discussions.
Dr. Suyanee Vessabutr, Head of Technical and Research Department (QSBG) gave an update on the recent SBSTTA meeting, including the in-depth review on GSPC implementation. Such presentations covering global conservation policies are expected to inspire and enhance national efforts in conservation, and were highly ranked by participants in a post-workshop survey.
Workshop discussions focused on possible joint collaborative projects such as research, data and information sharing, and capacity building. Although not all Thai botanic institutions were represented at the workshop, those who attended have laid the foundations of a Thai network for plant conservation (TNPC), which can play a role in formulating a national strategy for plant conservation under the GSPC framework.
90% of respondents in the post-workshop survey support such a network, praising the network as a "good initiative", "the right thing to do", and expecting it to "strengthen cooperation on plant conservation in Thailand."
The GPSC focal point for Thailand, Dr. Sirikul Banpapong, gave an opening presentation and closing remarks. She was encouraged to see this gathering of diverse institutions committed to plant conservation, and remarked that the formation of an informal Thai network for plant conservation would make her reporting to the CBD much more accurate and substantive.
BGCI wishes to express appreciation and gratitude to Dr. Suyanee Vessabutr (QSBG) and her organizing committee for hosting and conducting the workshop.