Plants for Life: Medicinal Plants Under Threat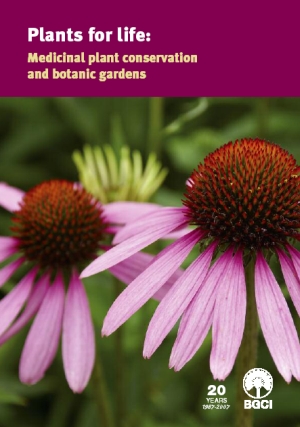 BGCI published the findings of a year-long investigation into the state of medicinal plants around the world.
BGCI would like to thank everyone who gave us their valuable input.
This information will help to define priorities for both in situ and ex situ conservation programmes and to facilitate best practice and priority activities for implementation.
We gratefully acknowledge the support of the Rufford Maurice Laing Foundation for this project.
Report Summary
Multiple Factors Contribute to Threats
As well as outlining the key trade, livelihood and conservation issues surrounding medicinal plants, the report illustrates the many ways in which botanic gardens can and do contribute to protecting the plants that heal us.
Botanic Gardens' Expanding Role
What came across very clearly was the expansion of the role of botanic gardens; from traditional ex situ conservation to more and more involvement with community work and partnering with other bodies to contribute towards really successful in situ medicinal plant conservation work.
Today, the relevance of botanic gardens to medicinal plant conservation is as strong as it was hundreds of years ago, when the very first botanic gardens were developed specifically for medicinal plant cultivation and research. From visionary education initiatives to cutting-edge genetic technology research; the report draws together the inspirational myriad involvement of botanic gardens in medicinal plant conservation and recommends focus areas for future work.