BGCI Continues with Medicinal Plant Conservation
Our new project, 'Botanical Safety Nets for Medicinal Plants' aims to conserve threatened medicinal plants used for primary healthcare in developing countries. The work will initially focus on identifying and recording key threatened medicinal plant species held in botanic garden collections, thus facilitating effective prioritisation for medicinal plant conservation and sustainable utilisation programmes.
Latter stages of the project will include detailed consultation with botanic gardens worldwide and an assessment of current medicinal plant conservation work underway and the potential for skill-sharing.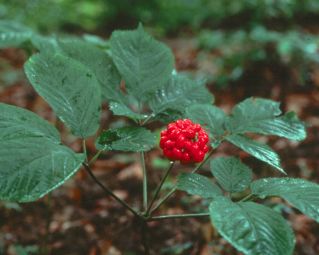 Wild Panax quinquefolius, 4 year old plant.
Ginseng (Panax spp.) is one of the most widely known medicinal herbs in the world, renowned for improving physical and mental performance. Some Panax species are threatened due to over-harvesting in the wild.
Image © US Fish and Wildlife

Training workshops will raise awareness of the importance of conserving medicinal plant species and the significant contribution that botanic gardens can make.

Case studies, best practice and priority conservation programmes will be identified and promoted via a report and action plan, available to a wide range of end-users from botanic garden professionals to the public.

It is hoped that this exciting project will help strengthen links between conservation bodies and create an enabling environment for the successful global co-ordination of medicinal plant conservation.

If you would like any further information about this project, or if you have any input that you feel would be beneficial, please do not hesitate to contact Belinda Hawkins at belinda.hawkins@bgci.org.