BGCI Study on CITES and Medicinal Plants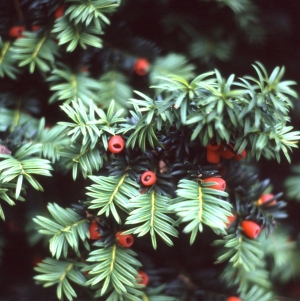 Taxus sp. (Fiona Dennis for BGCI)
Following on from our previous report "Botanic gardens: Using biodiversity to improve human well-being", an exciting study has been carried out in association with BCGI to assess the role of botanic gardens in conserving the medicinal plants listed within CITES.
Medicinal plants are of immense value for primary healthcare and income generation for much of the world's population. The continued unsustainable wild harvest of the most vulnerable species of medicinal plants threatens them with extinction. We therefore face multiple losses; in biodiversity, health and livelihoods. This study aims to assess the extent to which CITES-listed rare and threatened medicinal plant species are in cultivation in botanic gardens around the world and to assess the potential for gardens to assist with sustainable production and management schemes in line with existing legislation.
This project was carried out by Belinda Hawkins, a MSc student at Imperial College London, in association with BGCI.
If you are involved in the cultivation or conservation of CITES-listed medicinal plants, or would like more information about the study, please contact Belinda Hawkins. Alternatively you can contact her by email, c/o info@bgci.org or write to Belinda Hawkins, BGCI, Descanso House, 199 Kew Road, Richmond, Surrey, TW9 3BW. We would be very grateful for your help so we can ensure this study is as successful and useful as possible.
---
Medicinal Plants in CITES
Adonis vernalis
Aloe ferox
Aquilaria spp.
Bletilla striata
Cibotium barometz
Cistanche deserticola
Dendrobium nobile
Dionaea muscipula
Dioscorea deltoidea
Euphorbia antisiphilitica

Gastrodia elata
Gyrinops spp.
Guaiacum coulteri
Guaiacum officinale
Guaiacum sanctum
Hoodia spp.
Hydrastis canadensis
Nardostachys grandiflora
Panax ginseng
Panax quinquefolius

Picrorhiza kurrooa
Podophyllum hexandrum
Prunus africana
Pterocarpus santalinus
Rauvolfia serpentina
Saussurea costus
Taxus chinensis
Taxus cuspidata
Taxus fuana
Taxus sumatrana
Taxus wallichiana
---
| | |
| --- | --- |
| | Visit our PlantSearch database to research plants in the world's living collections. |