IUCN Calls On Botanic Gardens To Save Mediterranean Plants
MEDITERRANEAN
14 November 2005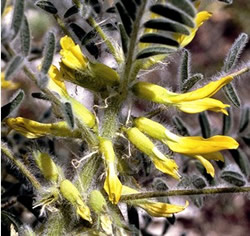 Cypriot endemic Lefkara milk-vetch,
Astragalus macrocarpus, is on the edge
of extinction
Image © IUCN
list of 50 plants of the Mediterranean has been released by the IUCN to highlight that they are on the edge of extinction.This is an urgent call to action to prevent these plants, many of which are island endemics, from slipping away altogether. The news comes as the regions governing bodies have signed up to the Mediterranean Strategy for Sustainable Development.
The plants are from all around the Mediterranean region from Spain in the west through Italy, Corsica, Sardinia and Greece to Cyprus. Many have only a few individuals left in the wild and many others have few or no seeds stored in seed banks.
One example is the 'Lefkara milk-vetch' from Cyprus. The IUCN have produced online fact sheets for each species and the entry for the herb known more properly as Astragalus macrocarpus subsp. lefkarensis includes the following:
Ex situ: Since the plants have a very low reproductive capacity, collecting large numbers of seeds from the wild and storing them in a seedbank could affect the recruitment of natural populations. Therefore, any collection for ex situ conservation needs to be carried out carefully and documented in order to conserve the maximum genetic diversity in the collections and create the least damage to the wild populations. Cultivation attempts are urgently needed.
There are other species for which no ex-situ action has been taken at all, such as the Critically Endangered Erysimum kykkoticum.
The entry for Scilla morrisii reads "Ex situ: Seeds representative of the genotype of this species need to be collected and stored in several seedbanks. This species should also be grown in botanical gardens."
Find out more at the IUCN website and take action now to cultivate and preserve seed if you can.