Securing ex situ collections of Critically Endangered and Endangered Conifers
7 August 2012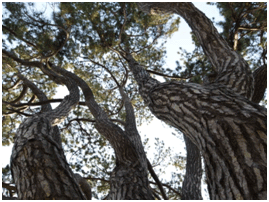 A half of the world's conifers are threatened with extinction in the wild. Of the 379 conifers at risk, 109 conifers are considered to be at most immediate risk of being lost if no action to conserve them is taken. Some of these are reduced to a handful of individuals in the wild and it would be a tragedy if such key species are needlessly lost.

As an immediate priority, it is clearly important that all Critically Endangered (CR) and Endangered (EN) taxa are represented in well-managed ex situ collections as an insurance policy for the future and in support of Target 8 of the Global Strategy for Plant Conservation. At the same time habitat protection and restoration should be reviewed and mechanisms put in place for local people to be involved in and benefit from the in situ conservation and management of these important species.

BGCI is now undertaking a comprehensive survey of ex situ collections of conifers building on information already held within our PlantSearch Database. The survey will enable us to identify precisely which conifers are currently held in ex situ collections and what related conservation activities are currently taking place. From this information, we will be able to identify the gaps and the opportunities in order to develop a prioritised plan for the long term integrated conservation of the most threatened conifers.

For further details of how you can help, please click here.