Our work
> Promoting Vegetable Diversity in Mexico City
Promoting Vegetable Diversity in Mexico City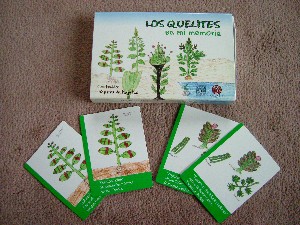 Game packs using Quelites, project of sponsorship
by the McKnight Foundation. Credit: UNAM (2005).
Mexican vegetables known as 'quelites' are highly nutritious and cost less than other vegetables. They have been traditionally used by Mexicans in this area, and were noted by the first European visitors to the continent in the 16th century. Unfortunately, documented information about quelitos has been forgotten in cities due to factors such as difficulty of access to them, lack knowledge about their preparation, lack of time available for housewives to prepare them, and (importantly) that they are considered a food of low social status.
Following the analysis of this problem, staff at UNAM Botanic Garden, Mexico City, designed a long term educational project. This project included the support of many institutions including governmental, educational, and NGOs. The objectives of this project were to increase awareness about the quelitos, and to rescue them and promote them for the nutritional benefit of Mexicans. For 16 years various groups have been involved in the programmes, and as a direct result, in city restaurants you can now taste dishes that include these vegetables.
Source: Linares et al (2006).
This information is taken from an article featured in Roots education review. Access to the latest issues of Roots is an exclusive benefit of membership. Please click here to discover more about Roots.

Portable Botanical Educational Cases in Mexico
In order to meet the challenge of bringing to the Mexican children quality educational programmes related to plants and Mexican culture without overburdening their teachers, we have designed a series of portable educational cases.
Welcome to BGCI Mexico
Botanic Gardens Conservation International (BGCI) in partnership with HSBC is supporting the conservation of plants through the botanic gardens in Mexico.
  
Find Out More
Urban Farming
Around a sixth of the world's population both live in a city and grow their own food. This fun and lively, colourful website investigates how people are growing food in urban areas and provides information on how food is produced.
Commonwealth Agricultural Bureaux International (CABI)
CABI is a not for profit, intergovernmental organization that provides information and applyies scientific expertise to solve problems in agriculture and the environment. CABI activities encompass scientific publishing, research and communication, and links science directly with rural communities.