IPSN News
Myrtle Rust Sentinel Project – Auckland Botanic Gardens

Myrtle rust (Puccinia psidii s.l.) is an invasive plant disease first detected in Australia in 2010. New Zealand are on high alert for any signs of this disease in Auckland due to past instances of rusts being blown across the Tasman sea from Australia. All Myrtaceous species are potential hosts of myrtle rust. For NZ this causes concern for a number of native species including the iconic NZ Christmas tree Metrosideros excelsa, important early successional plants e.g. kanuka (Kunzea spp.) and manuka (Leptospermum scoparium) as well as threatened species such as Metrosideros bartlettii and Kunzea sinclairii, edible fruit crops (e.g. feijoa Acca sellowiana) and ornamental horticultural plants (e.g. bottle brush Callistemon viminalis). Auckland Botanic Gardens has established a sentinel project where a subset of Myrtaceous plants grown at the gardens are now mapped and regularly checked for the disease. The aim of this project is to detect myrtle rust as early as possible (if it arrives in the country) and, if it does, to monitor its host preferences and rate of spread, as well as health implications for a range of native, threatened, economic and horticultural plants.
By Rebecca Stanley, Auckland Botanic Gardens
The IPSN EUPHRESCO Partners May Meeting, The Linnean Society of London 15th May 2014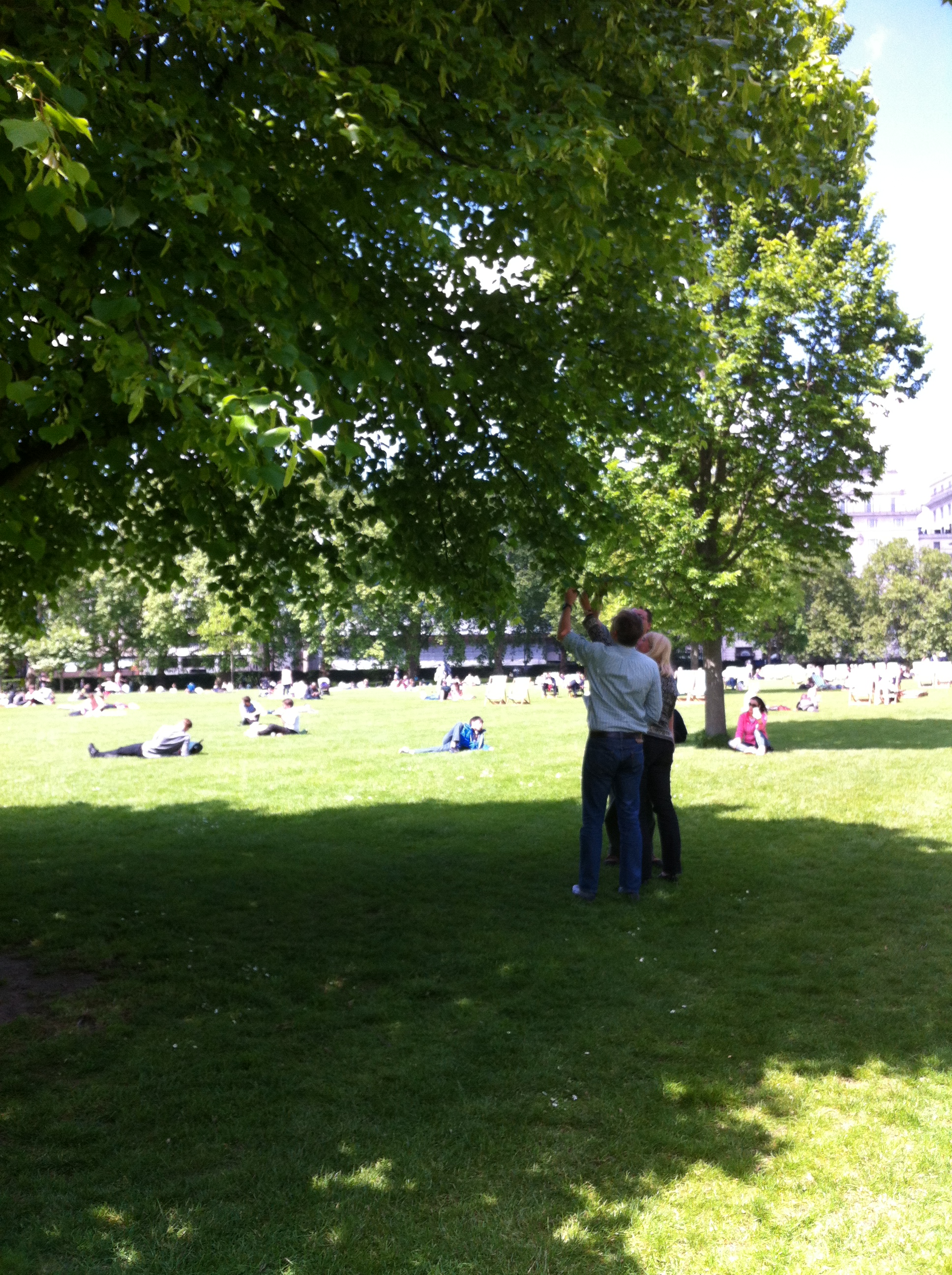 The International Plant Sentinel Network held its second EUPHRESCO partners meeting in the Tower Room of the Linnean Society in the heart of London. Attendees at this meeting included representatives from Germany's Julius Kühn Institut; the Netherlands' Food and Consumer Product Safety Authority (NVWA); the UK's Department for Environment, Food and Rural Affairs (DEFRA) and Food and Environment Research Agency (FERA); Botanic Gardens Conservation International (BGCI); CABI and the Royal Botanic Gardens Kew. Discussion centred on the progress the project has made over the last 6 months and future steps. As the weather was hot and sunny attendees moved out in to the sunshine in Green Park to trial a new protocol the IPSN is developing called the Plant Health Checker (pictured opposite). This protocol allows users to assess and record damage within a sick individual, its main aim is to capture change and highlight those individuals who require immediate attention. This will be sent out to gardens for trialling in the very near future.
Dr René Eschen from CABI was present at the meeting to give a brief overview of a newly approved COST-Action which is looking to create 'A global network of nurseries as an early warning system against alien tree pests'. This COST-Action will develop common protocols for the monitoring and identification of pests and explore ways to regulate the establishment of such nurseries and the use of collected data. For more information please click here.
Studying Red Band Needle Blight at the Yorkshire Arboretum, Castle Howard and the FC Wykeham nursery, both in the UK
The possibility of a British landscape free of the Common Ash (Fraxinus excelsior) has rightly caused considerable public outcry as well as raised concerns amongst the industry professionals and the scientific community. Yet the emerging threat of the defoliative disease Red Band Needle Blight (RBNB) to our native Scots Pine (Pinus sylvestris), also warrants further scientific research.
One of Britain's three native conifer species, Scots Pine is moderately susceptible to RBNB's causative agent, Dothistroma septosporum, which has over 80 other recorded hosts. Defoliation caused by RBNB has historically caused severe damage within the Southern Hemisphere's exotic pine plantations but more recently disease incidence has increased exponentially to over 60 recorded countries.
My research project investigated the efficacy of a field-diagnostic technique being developed by the UK's Food and Environmental Research Agency (FERA) to detect Dothistroma septosporum. Diagnostics play a significant role in forest disease management both in terms of quantifying and strategising against pathogenic spread. The portable LAMP assay has the potential to accurately detect and amplify target DNA within 15 minutes. The field-diagnostic was applied to two different sample sites - plantation stands of Corsican Pine (Pinus nigra var. maritima) within FC Wykeham nursery and individual Pinus jeffreyi from the Yorkshire Arboretum. Interestingly 77% of arboretum samples tested Dothistroma-positive despite their more asymptomatic appearance. Meanwhile, the overall experiment provided a useful validation of the method's practical strengths and limitations.
The Yorkshire Arboretum was a practicable sample site for the nearby FERA yet these institutions have enormous scientific potential for international research. Studies can be more rigorously tested because botanic garden or arboretum specimens provide further variables for consideration such as intensity of management or uncommon provenance. Furthermore these sites represent remarkable sources for investigations into tree disease resistance or tolerance to anthropogenic climate change.
By David Chesterton
Living with Environmental Change – Launch of the new Tree Health and Plant Biosecurity Initiative
On Tuesday 25th March the IPSN presented a poster at the Living with Environmental Change (LWEC) Tree Health and Plant Biosecurity Initiative launch held at the Royal Botanic Gardens Kew. This multidisciplinary initiative includes 7 new projects who will each receive their share of £7M in order to help address threats to UK forests, woods and trees. Each project will generate knowledge to support the protection of the UK's woodlands, commercial forests and urban trees from pests and pathogens. For more information please click
here
APGA Sentinel Plant Network (SPN) Northwest workshop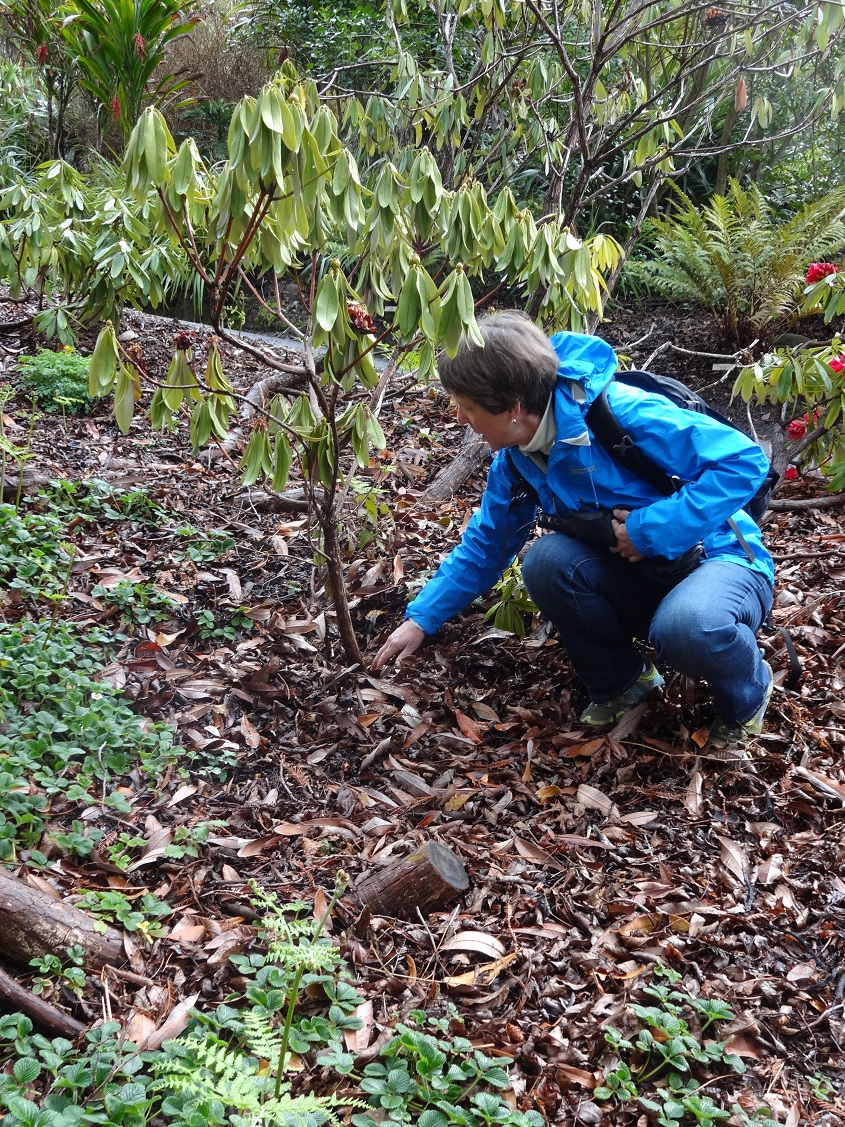 Dom Collins, a senior diagnostician from FERA, and Ellie Barham, IPSN coordinator, recently travelled to Berkeley in California to attend an SPN workshop, ran by the American Public Gardens Association (APGA) and the National Plant Diagnostic Network (NPDN). The workshop, for SPN member gardens in northwestern states, was hosted by the University of California's Botanical Garden at Berkeley and ran over 2 days. It saw 38 attendees including diagnosticians from local laboratories and staff from member gardens representing states stretching from Alaska to Arizona. The workshop included a number of presentations given by diagnosticians and Dan Stern (SPN manager) and Rachel McCarthy (NPDN) describing the network, the current threats to the local area, how to assess a plant, current apps and tools as well as public engagement opportunities. A highlight was the signs and symptoms walk around the hosting garden, which is beautiful and had some fantastic collections (as pictured opposite). This was a great opportunity to see the great work that this already established network is doing and our thanks go to Dan Stern, Rachel McCarthy, the University of California Botanical Garden staff and all the other attendees for a great couple of days. Find out more about the SPN here

3rd Xishuangbanna International Symposium, Botanical Gardens and Climate Change
Suzanne Sharrock, BGCI, Chris Malumphy, FERA, and Ellie Barham, BGCI, travelled to China in order to present the IPSN at the 3rd Xishuangbanna International Symposium, Xishuangbanna Tropical Botanic Gardens in the Yunnan province.
Symposiums are held every five years with the first being held in January 1999. The symposium aims to bring together leading scientists to present cutting-edge research, address current debates and assess future directions for research on biodiversity conservation and botanical gardens. This symposium was held from 13th – 16th January 2014 with the major theme: "Botanical Gardens and Climate Change". The symposium included 6 major sessions with over 40 speakers in total and a poster session which included 16 papers. Symposium attendees were from the US (Chicago), Germany, Laos, Singapore, India, Sri Lanka, Vietnam, Russia, Costa Rica the UK as well as Xishuangbanna Tropical Botanic Gardens and other gardens within China.
As a result of workshops ran within the symposium a declaration on botanical gardens and climate change was produced and can be found here.
The IPSN EUPRESCO Partners 'Kick-Off' Meeting, Royal Botanic Gardens Kew, 3rd-4th December 2013
The International Plant Sentinel Network (IPSN) held its first EUPHRSECO partners meeting at the Royal Botanic Gardens Kew, 3rd-4th December 2013. Participants included representatives from Germany's Julius Kühn Institut, Italy's Department for Innovation in Biological, Agro-Food and Forest Systems, University of Tuscia; the UK's Department for Environment, Food and Rural Affairs (DEFRA), Food and Environment Research Agency (FERA) and Forest Research; Botanic Gardens Conservation International (BGCI); CABI and the Royal Botanic Gardens Kew. The meeting provided partners with an opportunity to discuss priority actions as well as decide next steps.
A summary of these steps is given below:
Produce criteria for making priority host lists that can be used to identify plant species for sentinel research studies
Establish links with botanic gardens and arboreta who are interested in becoming part of the network and investigate opportunities for monitoring pests and diseases on plants already in existence in living collections
Determine scope for planting sentinel plants in botanic gardens and arboreta that have similar climatic surroundings to the plant's native region
Create a network of scientists with plant pest and disease diagnostic capabilities able to cultivate and survey these planted sentinel plants
Create an International Advisory Group which will include representatives from around the world who have an interest in the IPSN
Seek good examples of existing standard protocols and training materials that can help enhance pest and disease understanding, awareness and identification within contributing botanic gardens and arboreta
Develop the IPSN webpage and investigate the opportunities for collaboration between databases such as BGCI's PlantSearch and GardenSearch, CABI compendia and the Netherlands' QBank.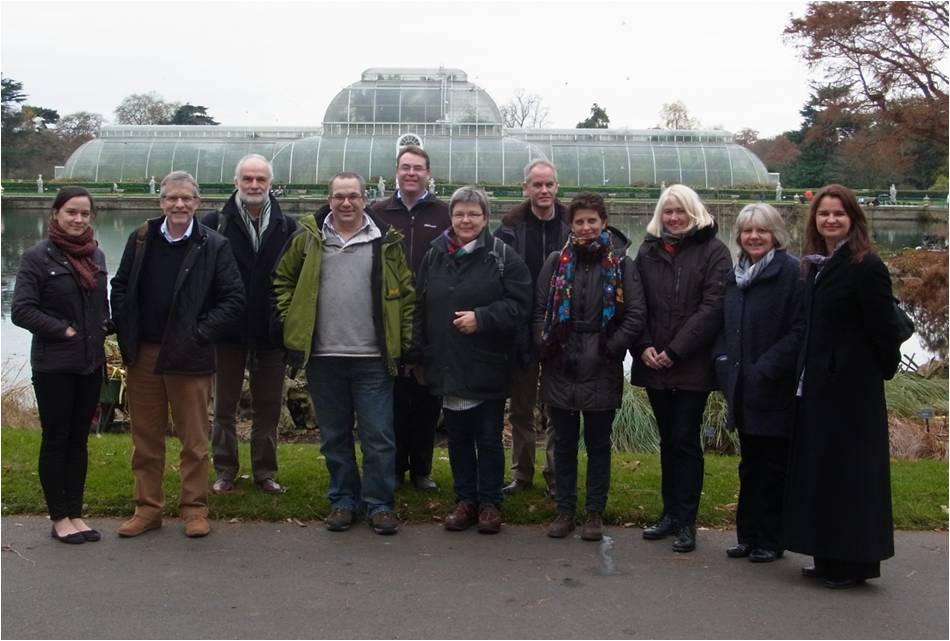 Clockwise from left: Ellie Barham (BGCI), Hugh Evans (Forest Research), Richard Baker (FERA), Adrian Fox (FERA), Charles Lane (FERA), Sara Redstone (RBG Kew), Gareth Richards (CABI), Anna Maria Vettraino (DIBAF), Gritta Schrader (JKI), Suzanne Sharrock (BGCI) and Lisa Smith (DEFRA).
IPSN Launch at the 5th Global Botanic Gardens Congress



The International Plant Sentinel Network (IPSN) was launched at the 5th Global Botanic Gardens Congress, 20th-25th October 2013. The congress was held in the beautiful city of Dunedin, New Zealand, whose botanic gardens were celebrating their 150th birthday. The 5 day conference was attended by over 300 delegates from 43 countries and included 17 plenary talks, 12 organised symposia and over 80 contributed papers, as well as a poster display and a number of specialised workshops. The theme of the congress was 'Celebrating success; the influence and appeal of botanic gardens'.

The IPSN launch was included as part of a symposium titled 'Sentinel plants for biosecurity risk assessment' hosted by Better Border Biosecurity (B3) New Zealand which aimed to raise awareness of the value of botanic gardens and plant collections internationally to assist in the identification of potential plant pests which could threaten indigenous plants in their area of origin.
'Sentinel' plants to serve on front line against pests and diseases
A major new international project aimed at setting up a global network of tree and plant health sentinels is being launched at the Global Botanic Gardens Congress in New Zealand next week. The project will be coordinated by BGCI and make use of the over 1 million records in our PlantSearch database.
The International Plant Sentinel Network (IPSN) will develop a community of botanic gardens and arboreta around the world that will use 'sentinel' plants to provide early warning of new and emerging tree and plant pests and diseases. Read more
here