Our work
> Influencing Decision-Making and Policy
Influencing Decision-Making and Policy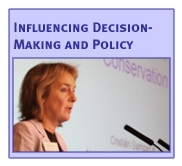 BGCI is well-known and widely respected for its role in policy development and implementation relating to plant conservation. It is, for example, generally acknowledged that without the policy work of BGCI, the GSPC would not have been developed and adopted by the Convention on Biological Diversity.
BGCI is a full partner with Fauna and Flora International in the Global Trees Campaign and provides the Secretariat for the Global Partnership for Plant Conservation.
Over the next five years, BGCI will continue to maintain its position as a leading advocate for plant conservation, with specific aims to:
Act as a leading advocate ensuring that the conservation and sustainable use of plant species is fully addressed by international biodiversity policy and related agreements with a focus on CBD and CITES to support all the targets of GSPC

Engage with policy makers and wider society to ensure that the CBD continues to pay full attention to the conservation and sustainable use of plant species beyond 2010, addressing the urgent threat of climate change.
Ensure mechanisms are in place to facilitate informed decision making by forging links between conservation best practice and biodiversity policy.
 
Latest News
7 August 2012

BGCI launches a global survey of ex situ conifer collections to help plan and prioritise conifer conservation.
BONN, GERMANY
6 June 2008
The Global Strategy for Plant Conservation (GSPC) underwent an in-depth review at the 9th meeting of the Conference of the Parties (CoP9) of the Convention on Biological Diversity (CBD), held in Bonn, Germany from 19-31 May.
GLOBAL
15 January 2008

Conservationists from around the world have declared 2008 the Year of the Frog to highlight their new campaign to save threatened amphibians from extinction.