Our work
> Securing ex situ collections of Critically Endangered and Endangered Conifers
Securing ex situ collections of Critically Endangered and Endangered Conifers
Send your conifer collection details to globaltrees@bgci.org by 15th July 2013 to ensure your institution's collection is included in this important survey!
Why action is needed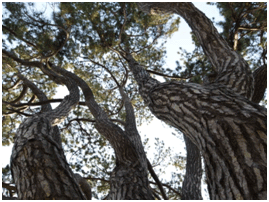 On July 2nd 2013, updated assessments of all conifer species were published to the IUCN Red List of Threatened Species. According to the updated assessments, 34% of conifer species are threatened with extinction - an increase by 4% since the last complete assessment in 1998.

Some conifer species, classified as Critically Endangered, are reduced to a handful of individuals in the wild and it would be a tragedy if such key species are needlessly lost. As an immediate priority, it is clearly important that all Critically Endangered (CR) and Endangered (EN) taxa are represented in well-managed ex situ collections as an insurance policy for the future and in support of Target 8 of the Global Strategy for Plant Conservation. At the same time habitat protection and restoration should be reviewed and mechanisms put in place for local people to be involved in and benefit from the in situ conservation and management of these important species.
BGCI survey
BGCI is undertaking a comprehensive survey of
ex situ
collections of conifers building on information held within our
PlantSearch
Database. The survey will enable us to identify which Critically Endangered (CR) and Endangered (EN) conifers are currently held in
ex situ
collections, what is known about their cultivation and what related conservation activities are currently taking place. From this information, we will be able to identify the gaps and the opportunities in order to develop a prioritised plan for the long term integrated conservation of the most threatened conifers.
How you can help
We would be very grateful for your help with this important survey. For each conifer in your collection, we would ideally like to know:
Is this conifer from a known wild source or from horticultural/unknown origin?
What is the approximate size of the collection? (Number of individuals grown – 1, 2-10, 11-30, 31-50 more than 51)
Is this conifer collection part of a restoration or reintroduction programme?

You can also help by:
Uploading all your current plant records to the BGCI PlantSearch database – we will be delighted to receive all your living collection records or just your conifer records. Guidance on how to do this can be found on our website at: www.bgci.org/worldwide/plant_upload/
Checking the IUCN Red List to see which of the threatened species you currently hold and letting us know about them
Sharing with us information on conifer conservation projects that you are involved in or are aware of
Please send your collection information to globaltrees@bgci.org by 15th July 2013 to ensure your institution's collection is included in this important survey.
If you think that you can help, or have any questions about the survey, or know of any important collections of conifers, then we would very much like to hear from you. The location of specific taxa will not be made public.
Future plans
BGCI will publish a report on ex situ conservation of conifers based on the results of this survey later in 2013. All contributors will be duly acknowledged without making taxa locations public.

Following the publication of the report, we will work with Fauna & Flora International under the umbrella of the Global Trees Campaign (www.globaltrees.org) to initiate integrated measures to restore wild populations of selected species and strengthen ex situ collections.
Please send your conifer collection details, or any questions to globaltrees@bgci.org