Habitat-based conservation in China
Evaluation and conservation of the woody plant diversity in Zi-Ben-Shan Mountains in West Yunnan Province
Partner: Kunming Botanical Garden, Chinese Academy of Science (CAS)
Forest surveys
Extensive surveys have been carried out to establish an inventory of the woody flora of the Zhibenshan Mountains, West Yunnan, a subtropical to temperate forest habitat with an exceptional plant diversity extending over 10,000 hectares.

This survey involved the collection and identification of more than 1,600 specimens from some 300 species.
The survey resulted in publication of An illustrated guide of selected plants of the Zhibenshan Mountains, West Yunnan, China, available in Chinese and English. To access the guide online, click here, or please contact BGCI to request a hard copy

Population reinforcement
Following the field surveys, ex situ conservation and propagation of selected species for population reinforcements has been carried out. So far, some 200 saplings of 14 species have been planted in situ in collaboration with the local forest bureau of Caojian, including Magnolia campbellii and Rhododendron argyrophyllum. By the end of May 2012, at least 500 saplings of some of the rarest woody species had been planted. Propagation and reintroduction efforts continue with a view to expanding restoration efforts. This is a key project of the Ecological Restoration Alliance of Botanic Gardens (ERA), which BGCI coordinates and Kunming Botanic Garden is a member of.

The project leader, Prof Weibang Sun, is pursuing efforts to get parts of Zhibenshan Mountains declared as a protected area.
Click here to read more about this project.

Planting for population reinforcement Transporting sedlings to the planting site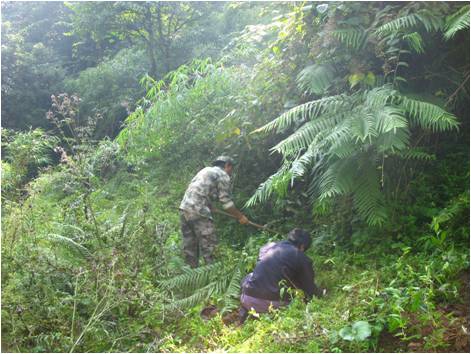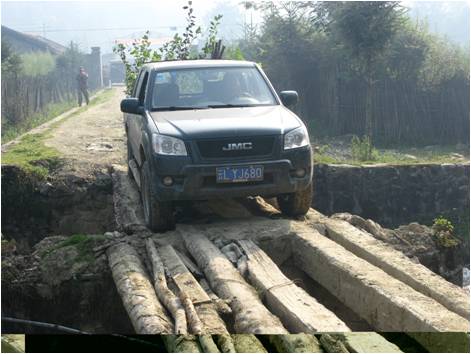 Arboretum transformation at Lushan Botanical Garden, and population reinforcement of Pseudotaxus chienii in Jinggangshan National Nature Reserve
Partner: Lushan Botanical Garden, CAS
Supported by BGCI over the past two years, work has continued to upgrade the arboretum of Lushan Botanical Garden and extend its size to enhance the wild plants collection. An additional 60 species were introduced to the arboretum, including a number of native yew species. A further 1,000 plant labels have been prepared for the majority of species growing in Lushan Botanical Garden and its arboretum.
In collaboration with the authorities of Jinggangshan National Nature Reserve, efforts are under way to develop in situ population reinforcement programmes for rare gymnosperms, in particular for Pseudotaxus chienii for which limited seed material has been found in the wild so far.
The secondary forest landscape of JNNR P. chienii growing in the cliffs of JNNR at about 1300m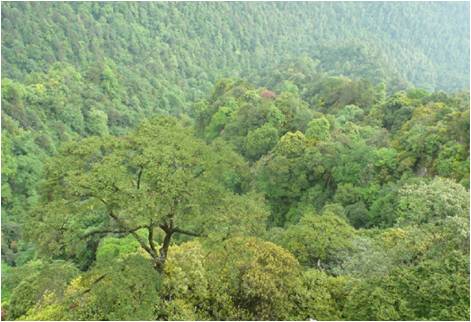 Restoration of tropical limestone rain forest in Xishuangbanna, Mengla county, Yunnan Province
Partner: Xishuangbanna Tropical Botanical Garden, CAS
This new collaboration with Xishuangbanna Tropical Botanical Garden (XTBG) aims to develop a model for restoration of tropical rain forest on limestone in Xishuangbanna National Nature Reserve. This forest type has dramatically decreased in size in Xishuangbanna area, mainly due to conversion torubber plantations.
XTBG has established a management agreement with the Management Bureau of Xishuangbanna National Nature Reserve for a period of 40 years to conduct research on biodiversity conservation, ecosystem restoration, including reintroductions and population reinforcement programmes.
This pilot demonstration project aims to restore one hectar of degraded area with locally available, native species, and to raise awareness of the importance of protectiong the remaining natural forest stands from conversion into rubber plantations. To date, the pilot restoration site has been identified, and the plant species composition surveyed with the engagement of the local community. Work has begun to clear the area from invasive species. Saplings of climax species that have been propagated at XTBG including Cleistanthus sumatranus, Lasiococca comberi, Tetrameles nudiflora, Pometea tomentosa and Parashorea chinensis have been planted and are being monitored.
The pilot site before and after clearing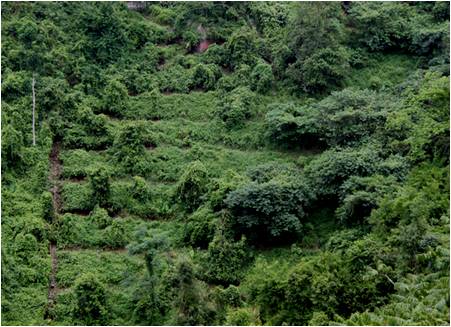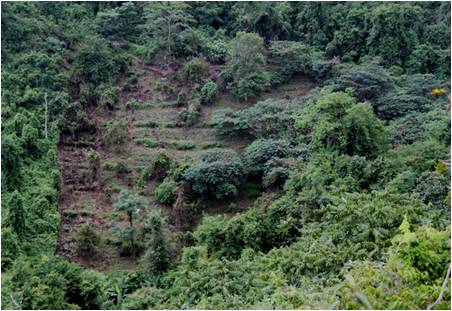 Saplings being planted to restore the pilot site