The Eden Project
'Buy a plant and save the parents!'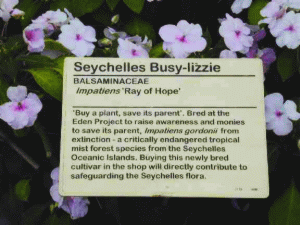 Using the endangered Seychelles endemic Impatiens gordonii as a parent, a new ornamental hybrid has been bred at the Eden Project called Impatiens 'Ray of Hope'. The selling of this plant is a new venture that has raised monies and awareness for conservation of rare and endangered Seychelles plants.
Prior informed consent to develop and sell the 'Ray of Hope' was sought and obtained in less than six months through the botanical garden in Mahé from the Ministry of Environment, Seychelles Government. It was felt that the Seychelles Government's decision to give consent was made easier because of our well-established relationship with the botanical garden on Mahé and our involvement in two major collaborative projects in the Seychelles: a Darwin Initiative project led by Eden Project looking at the propagation and establishment of 90% of the endemic plants, and a research project in conjunction with the University of Reading investigating the species recovery of Impatiens gordonii.
A percentage of the profits from Eden Project plant retail sales go directly back to the Seychelles to assist in the conservation of their rare and endangered plants.
Find out more:
http://www.edenproject.com/blog/index.php/2011/03/eden-creates-ray-of-hope-for-endangered-plant/