Supporting cactus conservation work of our partner gardens
---
Cactus and succulents homepage | Supporting cactus conservation work of our partner gardens | BGCI / IOS cactus and succulent plant survey | A future for cacti?

---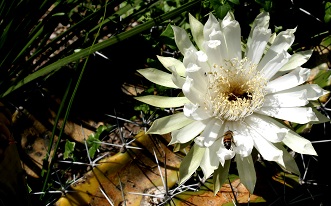 Supporting the conservation work of our partner botanic gardens
BGCI supports and promotes the important conservation work of our member gardens to safeguard threatened cactus and succulent plant species from extinction.
Case study: El Jardin Botanico Regional de Cadereyta - Ing. Manuel Gonzalez de Cosio, Queretaro, Mexico (Cadereyta Regional Botanical Garden)

Cadereyta Regional Botanical Garden works to conserve the native flora of Queretaro, a small state in Central Mexico which is renowned for its diverse flora. Many of Queretaro's plants are endemic to the state, found nowhere else on Earth. Queretaro is home to a particularly diverse range of cactus and succulent plants, many of which are threatened in the wild due to over-collection from plant enthusiasts, and habitat loss and degradation.
Cadereyta Regional Botanical Garden holds an impressive cactus collection and works to develop propagation protocols for the most threatened cactus and succulent species to safeguard them from extinction and provide support to wild populations. The garden's collection has 180 taxa of the Cactaceae family, fully listed in CITES Appendix II. 18 species of the Cactaceae family at the garden belong to CITES Appendix I. The collection holds 44 species of Cactaceae that are listed as threatened or near threatened on the IUCN Red List of Threatened Species; 9 listed as Critically Endangered (CR), 15 listed as Endangered (EN), 15 listed as Vulnerable (VU) and 7 listed as Near Threatened (NT). Many of these species are involved in propagation programmes at the garden.
Recently, the Scientific Research staff at Cadereyta Regional Botanical Garden evaluated the conservation status of Mammillaria herrerae Werderm. This species is a remarkable endemic plant of the Arid Zone of Queretaro and hidalgo, a zone which also provides habitat to other species with extremely narrow distributions, including the recently described Strombocactus corregidorae (Arias and Sanchez (2010).

The garden also runs education programmes and works closely with local communities to promote the importance of plant conservation. This includes guided tours and specific activities for selected groups. An educational programme for elementary school children has been taking place since 2010, to involve local children in plant appreciation, increase awareness and concern about threatened plants and increase understanding of the role that humans can play in conservation.

BGCI will visit the garden in May 2014 to draw up plans for collaborative future work.
Below are some highlights from the garden's impressive collection of cactus species from Queretaro state.
| | |
| --- | --- |
| | |
| Neobuxbaumia polylopha. IUCN Red List status: Vulnerable. | Opuntia microdasys. IUCN Red List status: Least Concern. |
| | |
| --- | --- |
| | |
| Opuntia robusta. IUCN Red List status: Least Concern. | Echinocereus schmolii. IUCN Red List status: Endangered. |
These photos were generously shared with BGCI by Jose Belem Hernandez Diaz, from the collection "Tu eres la flor, tu eres la vida". If you are interested in finding our more about this photography collection please click here.

Find out more about Cadereyta Regional Botanical Garden by visiting their website and GardenSearch profile.
Other important cactus and succulent collections are maintained at: