Asia
BGCI is working in Pakistan on ecological restoration of dryland ecosystems.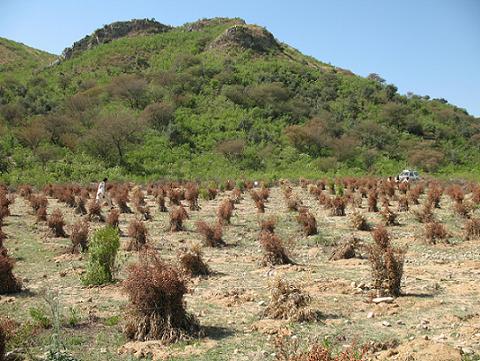 Above: Habitat recovery of scrub thorn vegetation in the Soan Valley, Punjab Province, Pakistan (March 2011). Planted seedlings of Acacia modesta and Olea ferruginea are protected with branches of Dodonea viscosa. A joint project of Government College University Lahore, Pakistan, and BGCI.

BGCI is working with Prof Amin Khan and his team at the Government College University (GCU), Lahore, to promote the use of native species in restoring drylands in the southeastern parts of Pakistan (Punjab province). This is particularly relevant in a country where forestry pursues a strategy that generally promotes uniform plantations of fast-growing trees in large-scale afforestation projects. Our practical restoration work is also accompanied by public outreach and advocacy activities to raise awareness of the potential negative environmental impacts of using introduced species.
The three dryland ecosystems where the project has established pilot restoration sites include the following vegetation types and tree keystone species:
scrub thorn forests with Olea ferruginea, Acacia modesta and occasionally interspersed Nannorrhops ritchiana in the Soan Valley, Khoshab district; very few pockets of the original vegetation remain in this hilly, at times mountainous landscape with beautiful rock formations and canyons, a landscape with a tremendous potential for eco-tourism development;
flood plain thorn forests with Prosopis cineraria (the native relative of the introduced P. juliflora), Salvadora oleoides and Tamarix aphylla; remnants of this vegetation type can be found on the actual excavation site of one of the ancient Indus valley civilisations at Harappa, Sahival district;
tropical dry deciduous forests with Butea monosperma as the dominant tree species at Kolian, Shakargarh district; remnants of originally probably much more extensive B. monosperma forests also occur in the border area on the Indian site.
All three vegetation types are heavily degraded. The native tree species of the thorn forests provide a source of fuel wood, and timbers preferred for construction. The Butea monosperma forests have been mostly cut down for farmland. None of the aforementioned species are imminently threatened with extinction at the global level. However, most of them are slow growing, and restoring these unique ecological formations to their original grandeur and productivity will take several hundred years.
Pioneering work
Prof Amin Khan has been working on the conservation of these unique dryland ecosystems for over 25 years. Even so, this remains a pioneering venture, working with representatives from forestry departments and local communities to fully engage them in the recovery programmes.
Specific activities include the propagation and cultivation of in situ collected plant material at locally established nurseries as well as at the botanic garden of GCU Lahore. Seedlings are then transferred to the pilot restoration sites and planted in specially demarcated plots. Local stakeholders need to be trained to ensure the highest possible survival rates through appropriate tending methods. A further challenge consists in establishing genuine ownership to manage the restoration sites, and monitor progress. Fencing off, rather than applying an integrated landscape-scale approach is still of major importance to protect the seedlings from rummaging porcupines and other rodents.
It will take a lot of hard work for this project to become sustainable. However, activities are implemented by an experienced and committed team whose professionalism is commendable all the more given the very challenging political and socio-economic circumstances. At the global level, this project directly contributes to the implementation of the Strategic Plan for Biodiversity 2011 – 2020 and the Aichi Targets of the Convention on Biological Diversity, specifically Target 15.
Sponsor this project
If you would like to make a donation to BGCI for this work, please contact us.