Home Gardens in Ghana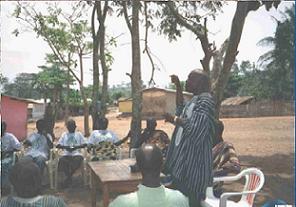 Lectures to the whole community
Credit: Aburi Botanical Garden
Wild plants are essential for primary healthcare in Ghana as 70-80% of the population cannot access hospitals or afford conventional medicines, and so rely on wild sourced medicinal plants instead. However, this resource is in jeopardy. Communities find it increasingly hard to source their medicinal plants, and practitioners must travel ever greater distances to find them.
Aburi Botanical Garden received Darwin funding to work on a project to respond to this situation, in partnership with BGCI, the UNEP World Conservation Monitoring Centre, Royal Botanic Garden Edinburgh and the University of Ghana. This project aimed to improve communities' access to medicinal plants, and to encourage their sustainable use. It set up a 50 acre model Medicinal Plant Garden, based on community ethno-botanical surveys, which was planted with 1,361 medicinal plant seedlings, and also set up a plant nursery to hold 5,000 medicinal plant seedlings.
This garden is used to support lectures, seminars and workshops for herbalists on how to propagate and cultivate medicinal plants, to encourage stakeholder interaction, and to encourage communities to set up their own nurseries and first aid gardens. The community is involved in their management through an advisory committee.
These activities have been accompanied by the publication of two manuals on medicinal plants: one on harvesting, preparation and storage, and the other on propagation. Aburi also provides communities with seedlings (over 2 million to date), and is involved in complementary activities, such as the enhancement of schools, church yards, towns and villages, promotion of some traditional medicinal plant management systems, and the management of protected areas.

Sources: G.Owusu-Afriyie (survey response), Amponsah et al. (2002), Gillett (2002), Damanka & Ofosuhene - Djan (2001).
   
Find Out More
UNEP-WCMC Medicinal Plants in Ghana
This site expands on the information in this article and features lots of downloads with detailed information about the project.
The Iroko Foundation
The Iroko Foundation was established in November 1999 as a charity to support community forestry and community conservation initiatives that protect Africa's forests, wildlife and forest based livelihoods. Forest clearance exacerbates poverty and sustainability becomes essential for survival.
Medicinal Plants Conservation Project - Egypt
Supported by UNDP and GEF, the MPCP aims "To eliminate the root causes of biodiversity loss and the threats to the conservation and sustainable use of wild Medicinal Plants in Egypt." Their objectives include the creation of a National Strategy on the Conservation of Medicinal Plants.