Red Listing Hydrangeas
Hydrangeas are popular ornamental plants with more than 1,000 cultivars. Relationships between the botanical species of Hydrangea s.s. are poorly known with the number of accepted species varying between 20 and 75. There are 8 more genera in the family as a whole with around 220 species of shrubs, trees, herbaceous plants and lianas. BGCI is working with the University of Ghent Botanical Garden on an exciting project to produce a Red List of the Hydrangea family. This builds on extensive research by the University. Two PhD students are working full time on the taxonomy and conservation status of the family, and volunteers and students in the garden will help to compile data. Studies of herbarium specimens and living collections are underway and further field work is planned.

The Botanical Garden of Ghent University has a large living collection of the Hydrangea family with more than 200 wild accessions covering all genera except Broussaisia. This collection is very important for the current taxonomic research and in the longer term, as an ex situ conservation collection. In addition a satellite garden managed by the Belgian Hydrangea Society (Hydrangeum vzw), harbours about 600 botanical species and cultivars of the genus Hydrangea. In 2007, the Botanical Garden organized the first Hydrangea conference attended by approximately 300 people from all over the world, to evaluate research in progress worldwide and how to fill "research gaps".
The focus of one PhD study in Ghent is on the poorly known section Cornidia of Hydrangea. Field assessments and collecting is planned in the countries where most species of this section occur, namely Chile, Costa Rica, Guatemala, Mexico, Panama, Peru and Ecuador. This will result in the presence of at least all currently known Cornidia species and of all growth forms of the Hydrangeaceae in the living collection. This project combines classical morphological, anatomical and taxonomical studies with phylogenetic and biomechanical research and will result in 1) a better insight in the phylogenetic relationships and the taxonomy within Hydrangeeae, and 2) propose trends in the evolution of growth forms in the genus Hydrangea s.l..

The second PhD study is on the evolution of Chinese Hydrangea with implications for biodiversity conservation. In the Flora of China account the two authors disagree on the status of most of the taxa. Hence, the need for a thorough study is necessary to understand the species particularly in light of the rapid deterioration of their habitats. Field study is planned in the provinces of Sichuan and Yunnan. This project combines morphological, cytological, phylogenetic and population genetic research to provide 1) an insight into Chinese Hydrangea relationships and geographical distribution, 2) evidence for speciation through different processes, 3) a taxonomic revision and 4) a proposal for priority areas for plant biodiversity conservation in temperate and montane cloud forests, and to protect genetic resources for plant breeding.

BGCI will help facilitate field work and herbarium studies in China and collation of information for the Red List of the family. A publication in planned using the Red List of Magnolias as a model.

Field work in Mexico in 2009-2010
Three species of climbing Hydrangeas are known to occur in Mexico:
H. seemannii
in the states of Durango and Chihuahua,
H. steyermarkii
in Chiapas (as well as Guatemala) and
H. nebulicola
in Querétaro, Hidalgo and Veracruz.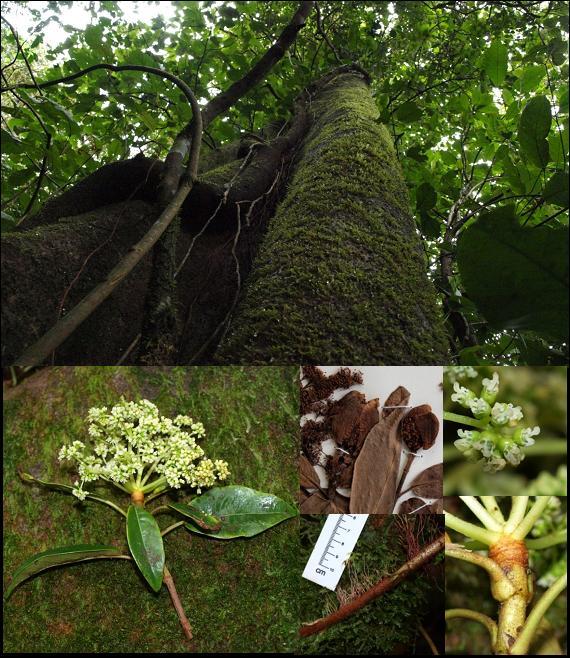 In January 2010 only very few localities of
H. nebulicola
could be found. At the 10 visited localities (selected based on herbarium labels), only one population consisted of mature individuals (Soteapan, Veracruz, see photos above). Individuals on all other heavily disturbed localities were juvenile and in very bad state due to logging. The species was listed as endangered in 1994 (NORMA Oficial Mexicana NOM-059-ECOL-1994) and as threatened with extinction by the Mexican authorities (NOM-059-SEMARNAT-2001).
Contact:
Marie-Stéphanie Samain (MarieStephanie.Samain@UGent.be)