The Roots of Wellbeing
With an increasing weight of scientific evidence pointing to the idea that simply being amongst botanical environments can have a marked benefit on mental and physical health, we take a look at 5 threatened plants that are making a vital contribution to human well-being across the world.
11 species under threat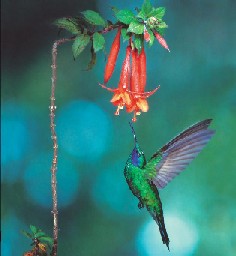 Fuchsia spp. (Onagraceae) being visited by its natural pollinator, the hummingbird. It is through this evolutionary partnership that fuchsias developed their distinctive pendant flower shape. (Photo: Luis A. Mazariegos, Botanical Society of America)
Hailing from moist woodland habitats across Latin America, the Fuchsia's brightly coloured, pendant blooms have secured it a place as one of the most enduringly popular ornamental plants the world over. Pollinated by humming birds, over 100 species have been so far identified, which have been used to create many hundreds more ornamental hybrids.

Yet despite its global popularity, even the most adept horticulturalists often overlook the initial reason why the genus was first domesticated – its intensely flavoured, edible fruit. Prized by the Incas, the dark purple berries have a sweet grape-like flavour, followed by a spicy aftertaste reminiscent of black pepper. Made into an array of jams and jellies, the fruit is sometimes still found sold in indigenous markets in Chile, Bolivia and Ecuador. Both the fruit and flowers are edible and are widely believed to have cure depression and heartache, undoubtedly resulting in its traditional name 'corazon corazon', literally meaning 'heart heart'. In Chile Fuchsia magellanica var. macrostemma is also a source of deep black dye.

Recent years however have shown a marked decline in the consumption of this traditional native food, reflecting the increasing fragmentation and dilution of indigenous culture and traditions. Working to halt this loss, BGCI is partnering with botanic gardens around the world to promote native foods like the Fuchsia, in order to help support native cultures.
Reviving of Aboriginal foods - A new health craze? - Australia
The Australian National Botanic Gardens reveal the great nutritional benefits of indigenous foods.
Using native foods to promote nutritional security - Cuba
The Cuban National Botanic Gardens launch a scheme to revive indigenous foods to improve local diets.
Two species under threat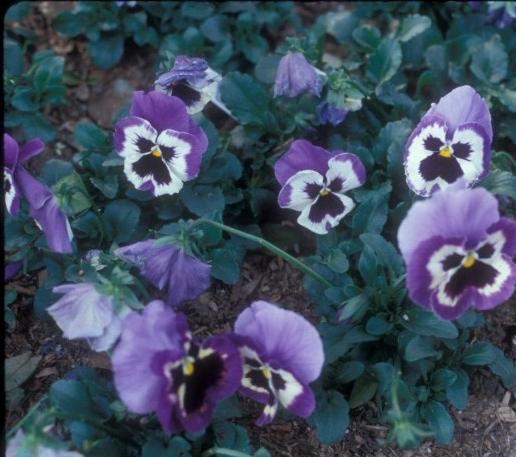 Viola x wittrockiana (Violaceae). A ornamental cultivar of Viola tricolor, which forms the staple of bedding schemes around the world. (Huntingdon Botanical Gardens)
Home to the shady under storey of temperate forests across the world, a variety of viola species have been incorporated into traditional medical systems - from being used to treat conjunctivitis in Japan to boils and abscesses by indigenous groups in Canada.

Ornamental hybrids of Viola tricolor, found growing in its wild form from Scandinavia to the Caucasus, are arguably the most familiar representatives of this family, being one of the most common garden plants in the world's temperate zones. Known to the English as Heartsease, this species, as its name suggests has been used to treat tension, anxiety and depression. Made into a herbal tisane the flowers were also taken to treat a range of disorders from eczema to migraines and irritable bowel syndrome.

With modern scientific understanding of these disorders strongly linking them to stress and anxiety, an intriguing rational behind why one plant is said to treat such a wide array of seemingly unrelated conditions.
Under threat through habitat destruction and over-harvesting from the wild.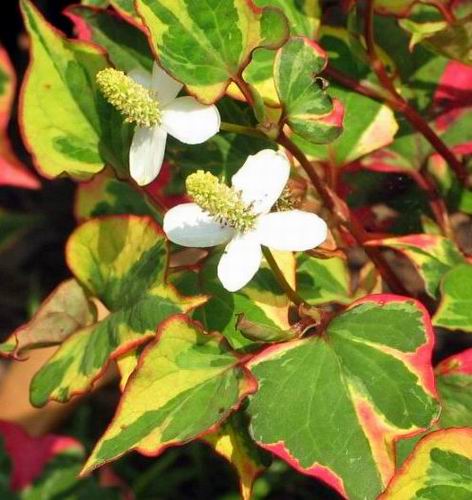 Houttuyinia cordata 'Chameleon' (Sauraceae), the variety most commonly known in horticulture.
Unbeknown to most Western gardeners, where it is simply as an ornamental pond plant, Houttuyinia is in fact one of the most widely used medicinal plants in East Asia.
The leaves and roots emit a powerful smell, often described as a blend of orange peel and coriander, betraying its use as a popular culinary herb in Vietnam and Southern China. The leaves are sliced and sprinkled onto duck egg salads, while its spreading rhizomes are cooked as a spicy root vegetable.
The whole plant is powerfully antibacterial, antiviral and antifungal, and is believed to have a stimulating effect on the immune system. Used to treat a wide variety of afflictions from cancer to cobra bites, the plant plays a central role in Chinese, Tibetian and Ayurvedic medical systems.
During the recent SARS outbreak in China, scientists investigating the plants used in traditional medicine in the search for answers to this previously unknown disease, discovered Houttuyinia had a unique anti-SARS effect, owing to its anti-inflammatory properties. In fact, it soon became one of the ingredients in the SARS prevention formulas recognized by the Chinese Ministry of Public Health, along with seven other traditionally used plants.
BGCI is supporting botanic gardens around the world who are pioneering research and conservation of traditional medical systems, in the search of cures for the world's major diseases.
Investment into Traditional Medicine stepped up - China
China, the world's main producer of traditional and herbal medicines, has launched an international project to modernise in the field of herbal medicine.
Traditional Medicine leads to new drug discovery - India
The Kani tribe of Southern western Ghats of India reveal the scientific efficacy of their traditional restorative medicine.
Conserving threatened medicinal species - Peru
The botanical garden in San Pedro de Atacama, plans to develop methods for conservation and management of medicinal plants and species which are used locally for their healing properties.
Recipe using Houttuyinia leaves
Two species under threat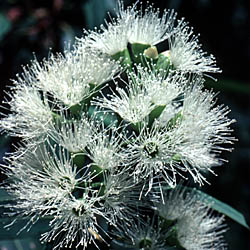 Eucalyptus curtisii (Myrtaceae) in full flower. The plant is now restricted to a tiny area south of Brisbane. (Australian National Botanic Garden)
Prized by florists and gardeners for its silvery, aromatic leaves, to Australia's Aboriginal population the Eucalyptus was far more than a mere ornamental.
Almost all parts of the plant have a traditional use, from the inner bark which was woven into nets to catch dugongs and sea turtles, to the scented flowers which were blended into a sweet drink. The leaves of the Ghost Gum (Eucalyptus papuana) were even used as a fish-catching poison. Soaked in water the leaves release a mild tranquiliser which temporarily stuns fish, causing them to float to the surface where they are easily caught.
The leaves are a powerful anticongestant and antiseptic and can be used to treat headaches, coughs, colds and stomach aches, either made into a steam inhalation, bath or an infusion.
Botanic gardens around the world, supported by BGCI, are major force for environmental education efforts. A key part of this is the promotion of the sustainable use of wild plant species such as the Eucalyptus in Australia.
Aboriginal Heritage at Sydney's Botanic Gardens
From Aboriginal plant walks, to traditional bush foods and cultural events, learn more about Australia's native culture at Sydney Botanic Gardens.
Australia opens its first 'Biopark'
Combining plants, animals and Aboriginal culture, this innovative botanic garden introduces visitors from around the world to the Australian desert environment.
Recipe using Eucalyptus leaves
Four species under threat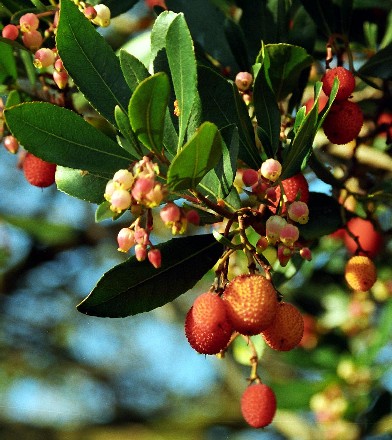 Arbutus unedo (Ericaceae), showing the ripening fruits. (Royal Botanic Gardens, Kew)

The relics of an ancient flora that covered large swathes of Europe before the ice ages, most Arbutus forests are now confined to far South West Ireland and the Southern Mediterranean.

The brightly coloured fruit, which turn slowly from yellow to bright red during their 24-month period of ripening have been traditionally used to make a variety of jams, conserves and liquers, and are considered a delicacy in Corsica. The fruit are often known to alcoholise while still on the tree, attracting a range of animals who appear to seek it out for just this purpose. Perhaps inspired by this, the flag of Madrid portrays a bear reaching up into an Arbutus tree to eat from its fruit.

Although little used in herbalism, it does deserve modern investigation. All parts of the plant contain ethyl gallate, a substance that possesses strong antibiotic activity against the mycobacterium bacteria. The leaves, bark and root are astringent and diuretic. They are also believed to be a renal antiseptic and so are of use in the treatment of affections of the urinary system such as cystitis and urethritis.

However a third of these species are now increasingly under threat, reflecting the ecological issues facing plants across the Mediterranean. BGCI are working with its network of botanic gardens to help conserve such species and rehabilitate degraded habitats.

Botanic Gardens called upon to save Mediterranean plants
Botanic gardens are being sent an urgent call to save the 'Top 50' Mediterranean plants on the endangered list.

Seed Banking to save efforts Mediterranean plants
The seed bank of the Universidad Politécnica de Madrid (UPM) pioneers seed banking of wild species.