Working With Clinics for Local Healthcare Needs in South Africa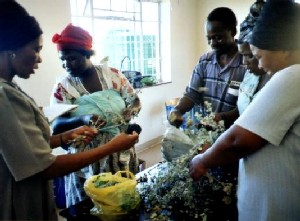 Thembalethu Clinic Workshop
Credit: Yvette van Wijk for
Garden Route Botanical Garden Trust

Garden Route Botanical Garden, in George, South Africa, has been running project "IMITHI Amayeza", working with a municipal healthcare clinics to identify and meet local healthcare needs. This was started at the request of the Knysa Municpal Clinic to help cope with unprecedented pressue on their limited resources, and a shortage of conventional medications and personnel. There was also a problem emerging from the overuse of antibiotics, which caused increasing resistance of diseases to these medications.

The garden worked with communities to understand traditional plant remedies, and then to incorporate these into basic remedies to be used and shared by clinics. The medications are also being tested by researchers at local Universities, to ensure the use of the plants will be efficacious and safe. These medications can be more easily available to communities, and are cheap, safe and effective. They are then dispensed by the clinics and by mobile clinic vans. The project also promotes the sustainable use and cultivation of medicinal plants by communities. In the future, this may allow community members to also receive income by selling the plants to the clinics or within the community.

Source: Y.van Wijk (survey response).