Bronx Green-Up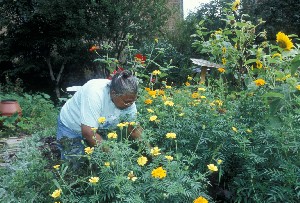 Fordham Bedford Lot Busters in the Bronx Green-Up
Project. Credit Jason Green for New York Botanical Garden

Bronx Green-Up (BGU) works with individuals and community groups to improve deprived urban neighbourhoods through 'greening'. New York Botanical Garden (NYBG) has run this programme since 1987.

Community gardens are key to this project's success, and they do much more than improve the appearance of the neighbourhood: they play a key role in tackling social problems in the neighbourhood. The gardens have transformed derelict lots into attractive and safe places to socialise, improving community cohesion, whilst the process of establishing and caring for the garden has given residents a sense of empowerment and ownership, encouraging them to tackle other neighbourhood problems.

"Ours was a nasty lot, with open prostitution next to a crack house. Bronx Green-Up offered workshops for Bronx people interested in making gardens and parks in empty lots. After taking the workshops, we all worked hard to make a beautiful space. No more crack house or prostitution, only vegetables, flowers and trees, a place to work and rest."
Alfred Bailey and son, Bronx residents.

The gardens also play an important role in fighting hunger and saving money, as the retail industry has moved out of the inner city but residents find it difficult to afford transport. Numerous studies have pointed out the economic and nutritional benefits that home gardening can bring. (For example, a 1993 study estimated that a 64-square-foot plot could save a family $600 in food purchases per year.)

BGU works hard to initiate and support the gardens, providing expertise, training and resources (such as trucks to transport building supplies to the garden sites). It also works in local schools, and liaises with government and local authorities to persuade them to deed garden lots to the community, and to provide other public amenities like new sidewalks. BGU has now assisted hundreds of community gardens, roof gardens, school projects, tree plantings and workshops, and it is used as a model for similar programs in other cities and countries.

Source: NYBG (2005; 1996), Keller (1996).