Rural Home Gardens Near Lucknow, India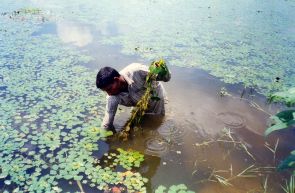 A clean-up was the first step towards the
development of aquatic gardens.
Image © Kamla Kulshreshtha


Improving nutrition and healthcare of the rural population was targeted by a project by National Botanical Research Institute (NBRI) in Lucknow, supported by Indian government's Department of Science & Technology. NBRI's Ecoeducation division set up a home gardens project in a village called Amol Kalla Paschim, near Lucknow, which was especially selected for its high level of deprivation and poverty.

The activities of the project focused on women from poor or lower caste backgrounds. After collecting baseline data on the village, its society and its natural resources, the NBRI project team started awareness campaigns on sustainable resource use. Twenty-five Self-Help Groups (SHGs) of five to six women were formed, and each provided with an education kit. This contained booklets on the nutritional value of vegetables, information on how to grow vegetables, and usefulstationery items. SHG members also received demonstrations and interactive training on plant cultivation practices such as composting and medicinal plant identification, and were encouraged to visit NBRI's model home garden and herbal garden. There was also encouragement for men to assist their wives in agricultural practices, and help in cleaning up village water.

This project resulted in a model home garden developed by each SHG, and all the SHG members benefiting from practicing the home garden techniques. Vegetables grown were consumed in the home, and some sold, whilst the seeds provided for future harvests. Some groups also developed gardens for health care: whilst others cultivated aquatic crops: each members of five SHGs earned 1,800 rupees. This project was so successful that it may be used as a model for projects in other locations.

Sources: Kulshreshtha (2005), NBRI (2005).