Sharing and growing - MoU Signed between BGCI and CETAF
21 October 2016

On October 18, BGCI and the Consortium of European Taxonomic Facilities signed a Memorandum of Understanding (MoU) marking the start of a new partnership between the two organisations.

The Consortium of European Taxonomic Facilities (CETAF AISBL) was created in 1996, with 33 members representing 57 natural history institutions from 20 European countries It is a unique platform for collections and taxonomy within Europe. In addition to its formal members, CETAF connects with other leading institutions, organizations and projects in the field of biodiversity research in Europe, and further afield.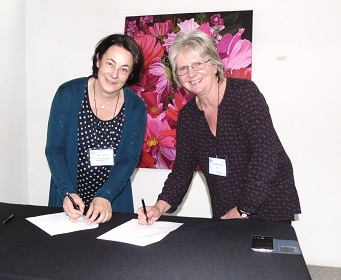 Michelle Price (Chair of CETAF) and Suzanne Sharrock (BGCI Director of Global Programmes) sign the MoU
Through the MoU, BGCI and CETAF agree to exchange information and to participate in and contribute to each other's networks. The signatories recognize each other as strategic partners for pursuing their common interests and will strive to work together on issues of common interest.
Such areas of common interest include, but are not limited to:
Access to genetic resources and benefit sharing in the framework of the Nagoya Protocol and the associated EU regulation;
Raising awareness of the importance of collections and taxonomic research though public education and outreach activities;
Promoting the use of collections in research and development activities;
Sharing taxonomic expertise to support activities related to conservation and collection management;
Developing and sharing common data standards with respect to collection management.

The MoU was signed during the 40th General Meeting of CETAF AISBL in Madrid, Spain.