BGCI and RBGE support conservation of Bhutan's Sacred Cypress
24 March 2016

Vulnerable natural cypress forests in the Himalayan kingdom of Bhutan may soon be facing a more secure future thanks to a new conservation partnership between local organisations there and Scottish-based horticulturists.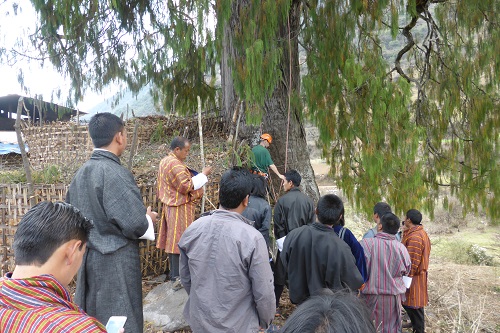 A team from the Royal Botanic Garden Edinburgh (RBGE) is working with local officials in Bhutan's Dangchu Valley to help develop and implement an integrated conservation programme for the Tsenden, Bhutan's national tree: referred to as the "Sacred Cypress" and essential in the construction and restoration of sacred temples.
Horticulturists Neil McCheyne and David Gray, experienced arboriculturists from RBGE's Benmore Botanic Garden, in Argyll, and Tom Christian, who works for RBGE's International Conifer Conservation Programme and Perth and Kinross Countryside Trust are working with partners in Bhutan thanks to funding sourced by BGCI.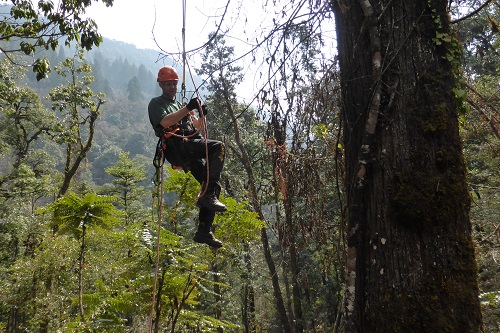 Tom Christian explained: "The Dangchu Valley is an important ecosystem and natural resource as it contains the largest known natural stands of Tsenden anywhere in the world. However, the forest is coming under increasing pressure as the result of requirements for the construction and restoration of important cultural structures. Therefore, it is essential that these forests are very carefully managed if there is to be a sustainable supply in the future.
"The Royal Botanic Garden Edinburgh works in over 30 countries around the world and it is very encouraging when we come across projects such as this, where it has been initiated by local people and supported by officials including Mayor Sonam Dorji and forestry officer Namgay Tshering."
Mayor Sonam Dorji added that work in hand included seed collection by specialist tree climbers- establishment of a tree nursery and the planting of community plantations to cultivate young trees and create sustainable timber supplies for the future, so relieving the pressure on natural forests.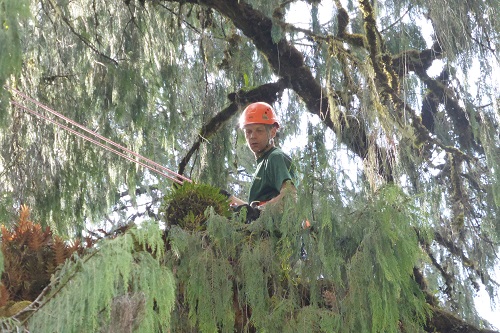 The intercontinental partnership is also surveying the natural stands of Tsenden in Dangchu Valley to determine the area, health, the extent of any regeneration and to inform future management recommendations. As part of this, data will be collected to inform an International Union for Conservation of Nature (IUCN) conservation assessment for Tsenden.

The ultimate aim is to conserve a critical mass of natural Tsenden forests, while continuing to sustainably source timber for essential needs from other areas. The findings of the current research can also be used to communicate and inform people both within Bhutan and internationally about this important tree and the forests where it grows, by installing interpretation at important sites such the Royal Botanic Garden Serbithang.

BGCI Secretary General Dr Paul Smith concluded: "BGCI wanted to fund the conservation and restoration of Tsenden because of the tree's cultural significance and because the people of Dangchu care about its future. We were particularly impressed that the people of Dangchu wish to plant this tree not for themselves, but for their grandchildren."



For further information or images please contact Sandra Donnelly on 0131 248 1037/07554115908 or Shauna Hay on 0131 248 2900/07824529028.

Editor's Notes

Royal Botanic Garden Edinburgh (RBGE), dating back to1670, is a Non Departmental Public Body established under the National Heritage (Scotland) Act 1985, principally funded by the Scottish Government. It is also a registered charity, managed by a Board of Trustees appointed by Ministers. Its mission is "To explore, conserve and explain the world of plants for a better future" and its primary functions are as a centre of scientific and horticultural excellence, keeper of the national collections and promoter of science in the public domain.
The four Gardens of RBGE - Edinburgh, Benmore, Dawyck and Logan - are numbered among the most popular visitor attractions in Scotland, bringing together many inter-related cultural areas of activity.

The Royal Botanic Garden Edinburgh is a charity registered in Scotland (No SC007983)