Belgian Grass Brought Back from the Dead
BELGIUM
17 October 2005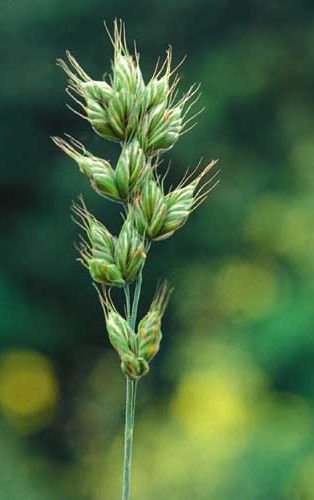 One of the world's rarest and most threatened plants has been brought back from the dead. The Belgium grass has been given the 'kiss of life' thanks to joint work by Kew's seed bank at Wakehurst Place, in West Sussex, and the National Botanic Garden of Belgium.
It is over 70 years since the plant was seen in its native habitat. Now fresh, green shoots are emerging in both Britain and Belgium from recently discovered seeds which had been stored away.
"This is a good example of how modern seed banking is a vital tool for conservation, and can complement work to conserve plants where they grow in the wild", says Simon Linington, head of curation at Kew's Millennium Seed Bank.
In a plea for help, and for fear of putting all their eggs in one basket, so to speak, the Belgians called on their European conservation partners at Kew for help when they found the forgotten packets of seed in their collection.
"It was clear that I was probably looking at the last few seeds of this species in existence, and so some of the seeds were dispatched to Britain so that both institutes could try to germinate them", says English botanist Dave Aplin from the National Botanic Garden of Belgium.
This is one of the first successes of the recently formed conservation network across Europe funded by the EU.
ENSCONET is a partnership of 18 institutes from a dozen countries in Europe which have joined forces to protect the continent?s most endangered species. Working together they can reduce duplication and improve data collection and management. This will be to the advantage of the many plants, such as Bromus bromoideus, facing extinction. 50% of Europe's endemic species are in danger of extinction.
Bromus bromoideus is one of the most threatened plants on the planet. Of the total amount of seeds discovered in the Belgium bank under a quarter were viable, so time was running out fast for this species.
The grass, formerly common in old-style hayfields around Liège and Rochefort south of Brussels, is thought to have declined dramatically from the early 1900s due to changes in farming practices.
One of Britain's own bromes has also had a torrid time, and Kew stepped in to help here too. Seed from the Millennium Seed Bank was used last summer (August 2004) in Oxfordshire in an effort to introduce this species back to the wild. Bromus interruptus grew successfully, flowered and produced sufficient seed this year to allow some to be sent back to the seed bank as a safeguard. The seed, which fell naturally, should germinate this autumn and help promote the resurgence of this once popular UK wild grass.