BGCI welcomes The Morton Arboretum as a patron garden
8 September 2014
BGCI is pleased to welcome The Morton Arboretum as a new patron garden. The Morton Arboretum and BGCI have renewed their Memorandum of Understanding to work together on global tree conservation and The Morton has generously seconded a Global Tree Conservation Officer to work with BGCI. The Morton has committed to support BGCI's red listing activities and strengthen the Global Trees Campaign in the U.S.A.
The Morton Arboretum, Chicago, U.S.A. has been a valued member and keen supporter of BGCI for many years. In 2014, this partnership was strengthened and BGCI and The Morton Arboretum renewed a Memorandum of Understanding (MoU) for collaborative work for global tree conservation.
The MoU was signed and celebrated at the British Consulate Residence in Chicago. Representatives from Chicago Botanic Garden, the American Public Gardens Association, Fauna & Flora International U.S., the Royal Oak Society and many more local conservation organisations joined us to celebrate the occasion, with spectacular views across the city skyline.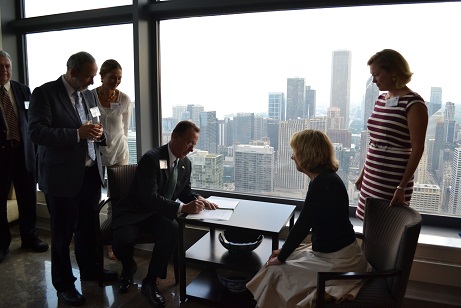 As part of this strengthened partnership, The Morton has generously seconded a Global Tree Conservation Officer to work with BGCI. Murphy Westwood is based at The Morton, where she works as a Tree Conservation Specialist. In her new joint position with BGCI, Murphy will support Global Trees Campaign activities in the U.S.A and lead red listing of oaks.
In October, 2015, The Morton Arboretum will host the International Oak Society Conference, and the next IUCN/SSC Global Tree Specialist Group meeting alongside. BGCI published the Red List of Oaks in 2007, providing conservation assessments of c. half of the world's oak species. The Morton Arboretum will undertake conservation assessments of the remaining oak species, update the 2007 assessments and carry out practical conservation work for native American oaks. More information about this project will be on the Global Trees Campaign website soon.
BGCI welcomes The Morton Arboretum as a patron garden and we look forward to further collaboration!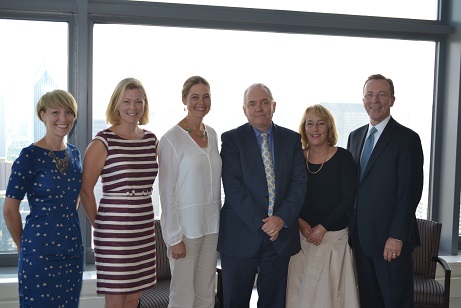 From right to left: Gerard T. Donnelly President and CEO of The Morton Arboretum; Sara Oldfield Secretary General of BGCI;
Steve Bridges UK Consulate General; Nicole Cavender Vice President of Science and Conservation at The Morton Arboretum; Murphy Westwood Tree Conservation Specialist at The Morton Arboretum and Global Tree Conservation Officer at BGCI; Kirsty Shaw Conservation Officer at BGCI.
See a full list of BGCI's patron gardens.
Find out how your garden can become a patron.