Global Survey of Ex situ Conifer Collections highlights need for increased conservation action
19 June 2014
34% of conifers are globally threatened with extinction. A new BGCI publication Global Survey of Ex situ Conifer Collections provides an analysis of how well represented threatened conifers are in botanic garden and arboreta collections around the world and highlights priority taxa for conservation action. The survey found that while 81% of threatened conifers are reported as held in ex situ collections, many threatened taxa are only represented in a small number of collections with limited value for recovery and restoration programmes. Although excellent conservation initiatives are in place for some threatened conifers, greater action is needed to ensure the survival of all threatened conifer species.

A global reassessment of the conservation status of the world's conifers was undertaken and up-to-date assessments published on the IUCN Red List of Threatened Species in July 2013. This showed that 34% of conifers (292 taxa) are globally threatened with extinction.

In response to this and as part of our work to contribute towards the Global Trees Campaign, BGCI requested taxa lists from important conifer collection holders to determine how well represented threatened taxa are in ex situ collections. Information provided to the BGCI PlantSearch database shows that 81% of globally threatened conifer taxa are present in over 800 ex situ collections. The Global Strategy for Plant Conservation calls for 75% of threatened taxa to be held in ex situ collections by 2020. According to data provided, this target is being met, but further analysis shows that 134 threatened conifer taxa are known in very few or no collections. These taxa, are highlighted as priorities for establishing a more effective safety net against extinction of threatened conifers.
| | |
| --- | --- |
| | |
| Araucaria araucana. Endangered. Reported as held in 162 ex situ collections worldwide. | Chamaecyparis lawsoniana at Bedgebury National Pinetum, UK. Near Threatened. Reported as held in 160 ex situ collections worldwide. |
Institutions were asked to provide additional information on the threatened taxa held in collections, including provenance and number of individuals. This information reveals that the large majority of wild source collections of threatened conifers consist of only 1-5 individuals, falling far short of the amount of material needed to carry out successful recovery and restoration programmes for wild populations.

Conifers are popular for their ornamental and landscaping value and have long been selected for planting in private gardens and public parks. The report highlights a strong collection focus on cultivars, accounting for almost 50% of the records provided. This figure is likely under reported as cultivars were not the focus of the call for data. If staff and financial resources applied to maintaining cultivar and horticultural collections were redirected towards maintaining collections of threatened taxa, much greater conservation impact could be achieved.
The Global Survey of Ex situ Conifer Collections provides recommendations aimed at increasing capacity for threatened conifer conservation, improving management of ex situ collections, and enabling supply of ex situ material for recovery and restoration programmes. The report also highlights case studies of best practice to inspire further action. Case studies include the cross institution collaboration achieved through the International Conifer Conservation Programme (ICCP) and successful examples of pest and disease management for threatened conifers in the U.S.A carried out by the USDA Forest Service.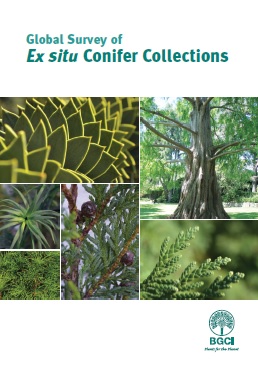 Hard copies of the Global Survey of Ex situ Conifer Collections are available to purchase from the BGCI publications catalogue and the full report is available to download from the BGCI and Global Trees Campaign websites. Click here to read the full report.
Shaw, K. and Hird, A. (2014). Global Survey of Ex situ Conifer Collections. BGCI, Richmond, UK.
The Global Trees Campaign is a joint initiative between BGCI and Fauna and Flora International (FFI) to safeguard the world's threatened trees from extinction. Find out more about the work of the Global Trees Campaign on our website and visit the Resources section to access Red Lists, ex situ surveys for other tree groups and guidance briefs and manuals to support direct conservation action for threatened trees.