International Rhododendron experts meet in Edinburgh
18 April 2013
As we celebrate the arrival of spring and look forward to the flowering of ever-popular rhododendrons and azaleas, the Royal Botanic Garden Edinburgh plays host to a group of international experts meeting to develop a plan to save threatened Rhododendron species from extinction in the wild.
Although common in cultivation, research by Botanic Gardens Conservation International (BGCI) and the Royal Botanic Garden Edinburgh (RBGE) published in 2011 showed that a quarter of the more than 1,000 known species of Rhododendron are under threat in their native habitats. Indeed, one particular species (Rhododendron kanehirae) would be extinct but for collections in botanic gardens such as RBGE.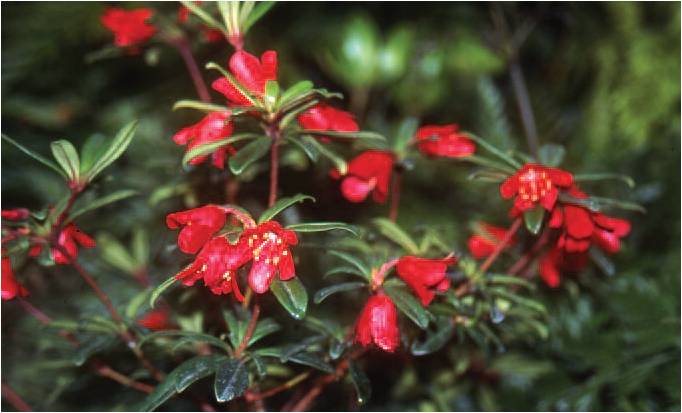 Famous for their flowers, Rhododendrons (including azaleas) have long drawn plant hunters to their centres of diversity in the Himalayas and mountains of Southeast Asia. In their native habitats, Rhododendrons are valued for their medicinal properties, and in some communities they have a wide range of other uses, including firewood, timber, teas, jams, narcotics and also as a source of insecticide. Rhododendrons grow in areas of high rainfall and high humidity on acidic soils; conditions under which few plants would survive. They stabilize slopes and protect watersheds, notably in the Himalayas where so many of Asia's major rivers start.
BGCI's 2011 report highlighted the urgent need for conservation of 75 of the most threatened Rhododendrons - species that were considered to be on the verge of extinction in the wild. Furthermore, the internationally adopted Global Strategy for Plant Conservation, calls for 75 per cent of all threatened plants to be conserved in ex situ collections (such as botanic gardens) by 2020. In the case of Rhododendrons this equates to 238 species. Click here to access the Red List of Rhododendrons
In 2012, BGCI carried out a survey to see how many of the threatened Rhododendrons were already in the collections of botanic gardens and arboreta around the world. Worryingly, only 48 such species were identified. This means that many of the Critically Endangered and Endangered species are currently not known in cultivation and therefore at great risk of extinction if the threats that they are facing in the wild are not addressed. Click here to read the ex situ survey
Armed with background information on which species are most at risk in the wild, and which are not already in conservation programmes, the experts meeting in Edinburgh his week will be working to develop a coordinated action plan to ensure the future of this family of distinctive and beloved plants.
Quotes:
Sara Oldfield, Secretary General of Botanic Gardens Conservation International:
"Rhododendrons are flowering at last in our gardens. In their natural habitats these same species are in trouble. Horticultural skills are urgently needed to restore endangered Rhododendron species in China and other parts of Asia where they are important components of mountain ecosystems. BGCI is committed to helping save these beautiful plants from extinction."
David Chamberlain, Research Associate, Royal Botanic Garden, Edinburgh
"A spectrum of contributory factors ranging from soil erosion through deforestation and climate change; grazing and competition from other species trees has all but wiped out many wild populations of rhododendrons and numerous others are at risk. Therefore, conservation initiatives such as this are crucial. However, botanic gardens can play a vital role in modern day conservation when so many plant species are under threat. The living plant material and reference collections held by these gardens make it possible to interrelate and validate scientific studies. At Edinburgh, for example, we hold living specimens of species now believed not to be growing in their natural habitats. By sharing scientific resources and investing in horticultural expertise we will be in a better position to redress the situation. Ultimately, we may even be in a position to reintroduce some species back into their natural environments.''
Ian WJ Sinclair, President of the Rhododendron Species Conservation Group:
"It is encouraging to see so many key authorities on rhododendrons come together under one roof to discuss the importance of this issue. The aim of the weekend is to agree priorities and establish a plan of action. By working together it should be possible to pave the way for more effective international communication in the sourcing of important research and conservation materials. I have no doubt that this conference has the potential to make a significant contribution in saving the species at risk in their natural habitat and that the creation, already underway, of accurately named GPS records of known wild origin rhododendrons in cultivation also has an important role. Already, the Rhododendron Species Conservation Group – in association with BG Base, biological collections search engine, developed by RBGE and its partners - has records of 98 Scottish gardens with roles to play in this initiative".
Notes:
International Rhododendron Species Conservation Conference
The Royal Botanic Garden, Edinburgh [RBGE], the Rhododendron Species Conservation Group [RSCG] and Botanic Gardens Conservation International [BGCI] are jointly hosting a two-day Conference with key-note speakers from around the world on Saturday 20th & Sunday 21st April, 2013, in the Lecture Theatre of the RBGE, to discuss the contents and impact of 'The Red List of Rhododendrons', published in 2011 and the ex situ survey published last year. The Conference will work towards answering the question: Where do we go from here in terms of conservation priorities and actions?
The Red List of Rhododendrons
The Red List of Rhododendrons (ISBN: 978-1-905164-35-6) was published by BGCI in 2011. The 128 page report designates Rhododendron plant species according to a classification system for conservation status from the International Union for the Conservation of Nature known as IUCN Red List Categories and Criteria. The report shows that of the 1157 Rhododendron species surveyed, their conservation status was: Extinct 1, Extinct in the Wild 1, Critically Endangered 36, Endangered 39, Vulnerable 241, Near Threatened 66, Data Deficient 290, Least Concern 483. Consequently, 316 are considered threatened with extinction and therefore require conservation action (i.e. they are classified as Critically Endangered, Endangered or Vulnerable). Copies of the report can be downloaded for free (from http://www.bgci.org/ourwork/Rhododendron-Red-List) and printed copies are available from BGCI at £15 each and can be ordered via the BGCI website.
Where to see endangered Rhododendrons
The most significant botanic garden collections of rhododendrons in the UK as identified by BGCI during its 2012 survey are:
1. Royal Botanic Garden Edinburgh: 734 taxa of which 184 are unique or rare
2. Royal Botanic Gardens, Kew: 404 taxa of which 14 are unique or rare
3. The Sir Harold Hillier Gardens: 280 taxa of which 5 are unique or rare
4. Wentworth Castle Gardens: 213 taxa of which 6 are rare or unique
5. Royal Horticultural Society's Garden, Wisley: 246 taxa of which 3 are unique or rare.