83 percent of Madagascan palms face extinction
17 October 2012
The latest update of The IUCN Red List of Threatened Species was released today (17th October 2012). The total number of species included in the updated list is 65,518, of which 20,219 are threatened with extinction.
As part of an ongoing assessment of all palms, the IUCN Special Survival Commission (SSC) Palm Specialist Group carried out an assessment of Madagascar's palms. 192 assessments of Madagascan palms are now included in the updated Red List, all of which are endemic to Madagascar. Research led by experts at the Royal Botanic Gardens, Kew, an IUCN Red List partner, shows that of these 192 taxa, 83 percent are threatened with extinction.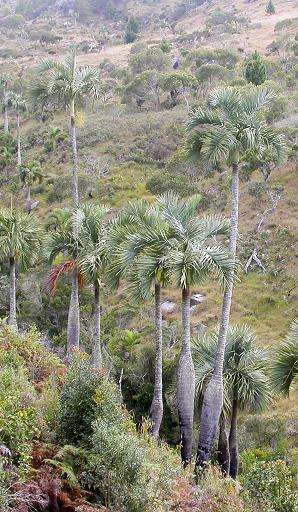 'It is tragic to witness the decline of Madagascar's unique flora. There are conservation solutions for plants and we must act now' says Sara Oldfield, Secretary General of BGCI. 'The IUCN Red List is an essential first step in the conservation process, identifying which plants and animals most need assistance to guarantee their future'.
Palms are an important part of Madagascar's biodiversity. They also supply essential resources to local people, providing some of the island's poorest communities with materials for house construction and edible palm hearts. Habitat loss and palm heart harvesting are major threats to the species, resulting in the high percentage of threatened species.
According to William Baker, Chair of the IUCN SSC Palm Specialist Group and Head of Palm Research at RBG Kew 'The majority of Madagascar's palms grow in the island's eastern rain forests, which have already been reduced to less than one quarter of their original size and which continue to disappear'. Land is being cleared for agriculture and logging. The decline of these forests is threatening the survival of all flora and fauna that occur there.
The national system of protected areas, managed by Madagascar National Parks, covers 10 per cent of the island. This offers protection to some, but not all of Madagascar's palm species. RBG Kew is undertaking several conservation projects, aiming to protect some of Madagascar's threatened palms. Restoration of degraded habitats both within and outside protected areas will be a priority fo the Ecological Restoration Alliance of botanic gardens coordinated by BGCI.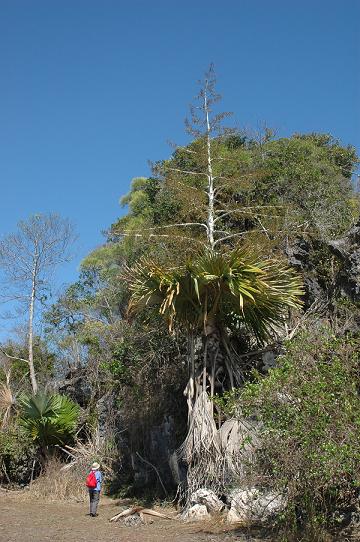 The recently discovered Tahina Palm (Tahina spectabilis), also known as the Suicide Palm, has been included for the first time on The IUCN Red List and is listed as Critically Endangered. Only 30 mature individuals have been found in the wild and much of its habitat has been converted to land for agriculture. Tahina spectabilis grows up to 18m and mature individuals are large enough to be seen on Google Earth. A few months after flowering and producing seeds, the tree dies.
RBG Kew and Madagascar's national seed bank, sustainably harvested seeds of Tahina spectabilis which are sold through a commercial palm seed merchant. The earnings go back to the local community and are used to renovate buildings and grow food more productively. RBG Kew is working with organisations in Madagascar to ensure that conservation managers have all the information available on important palm populations and to raise awareness of the extinction risk of key species. The loss of palm species will impact both Madagascan biodiversity and local people and the current situation must not be ignored.
Photo credits:
Homepage image: Ravenea rivularis, H Beentje, RBG Kew
Top image: Dypsis decipiens, M Rakotoarinivo, RBG Kew
Lower image: Tahina spectabilis, W Baker, RBG Kew