Momentous Day for Key Tree Cactus
FLORIDA KEYS, USA
17 August 2012
After years of preparation and sheer determination, Fairchild's South Florida Conservation Team along with agency partners and volunteers reintroduced Key Tree Cactus (Pilosocereus robinii) to the Florida Keys in July 2012. After our surveys indicated that the cactus had lost approximately 80 percent of all plants and 87 percent of all stems from 1994 to 2007, Fairchild and the U.S. Fish and Wildlife Service began planning recovery efforts for the species. The process began in 2008 when former Fairchild field botanist Joie Goodman used a site assessment tool developed by colleague Sam Wright to determine the most suitable location for a Key Tree Cactus reintroduction. Because we know that site selection is critical to the success of any reintroduction, we took great care to test environmental conditions at prospective sites before making a final decision. Our previous studies indicated that Key Tree Cactus suffered under conditions of high salinity therefore we made sure that this reintroduction site had soil nutrient conditions most suitable for cactus growth.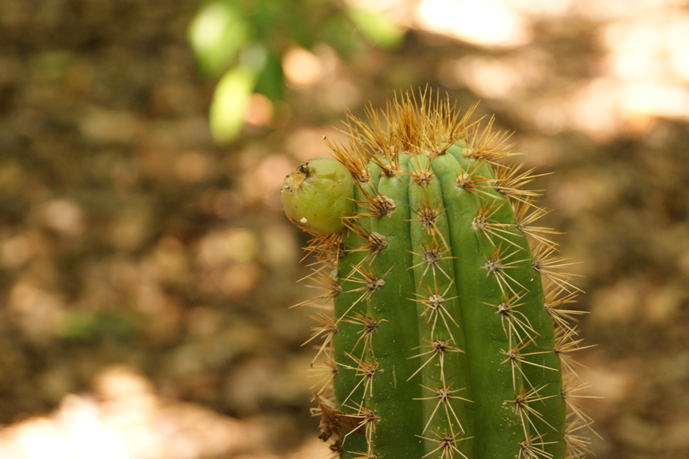 Growing enough healthy plants to use in the reintroduction was also an essential step. For many years Fairchild's field botanist Devon Powell collected cuttings from Key Tree Cactus wild populations and propagated them in the Center for Tropical Plant Conservation nursery. With good horticultural practice Devon built a substantial robust collection from which we could choose the most appropriate genetic source stock for the reintroduction.
Good horticulture must be carried to the planting event. We are grateful to several volunteers with excellent horticultural skills who helped us plant the cactus in the hammock. Creating adequate planting space required breaking through the coral rock substrate. Kevlar gloves made it possible to handle and settle the cactus in place. As you can imagine, planting cactus in the Florida Keys in July was hot and sticky, but we chose this season to take advantage of the relatively frequent rainfall. Even still, we will water plants weekly for the next 3 months to assure their health.
Two weeks after planting we discovered that the plants are doing well. One plant has formed a flower bud, while others have lateral branch buds. This is great news! Because we still have much to learn about the optimal conditions for Key Tree Cactus growth and population persistence, we measured several environmental conditions at the site and will be able to test whether any help establish this new population.
We thank Florida Parks Department, US Fish and Wildlife Service, Florida Department of Forestry, and Mohammed Bin Zayed Conservation Fund for logistical and financial support for this reintroduction.