Restoring the Earth: Botanic Gardens join forces to launch Ecological Restoration Alliance
18 May 2012
Botanic gardens around the world will sign an historic agreement on 23 May 2012 to restore the world's damaged ecosystems.
Responding to a United Nations target to restore at least 15 percent of the world's damaged ecosystems by 2020, the following institutions have agreed to work together to form a new Ecological Restoration Alliance:
Royal Botanic Gardens, Kew, UK
Royal Botanic Garden Edinburgh, UK
Missouri Botanical Garden, USA
Brackenhurst Botanic Garden, Kenya
Kings Park and Botanic Garden, Australia
National Tropical Botanical Garden, USA
Rio de Janeiro Botanic Garden, Brazil
Instituto de Ecología, A.C. "Francisco Javier Clavijero Botanic Garden", Mexico
Royal Botanical Gardens, Canada
The Alliance, which will be coordinated by BGCI has ambitious aims, with a plan to restore 100 damaged, degraded or destroyed ecosystems. Restoration projects will be conducted on six continents, drawing on the proven restoration knowledge, capacity and experience of the allied botanic gardens, arboreta and seed banks (see examples of current work below). The places to be targeted include tropical forests, prairies, wild places within cities, wetlands and coastal sites – ecosystems that are under threat and are no longer able to provide essential services and resources for sustaining human livelihoods and biodiversity.
Other botanic gardens in China, South Africa, UK, USA and Venezuela are committed to joining or supporting the Alliance. The combined expertise of members will be drawn together to build global capacity for pragmatic yet well-informed ecological restoration. The lessons learned from the initial flagship projects will be applied to other places, enhancing the contribution of restoration to achieving a healthy and sustainable planet. A new generation of practitioners will be trained and guidance provided to industry and governments toward best practices for land restoration. This ambitious 20 year initiative, developed by botanic gardens and facilitated by Botanic Gardens Conservation International (BGCI), responds to urgent global needs expressed in both the UN's Convention on Biological Diversity and the Millennium Development Goals.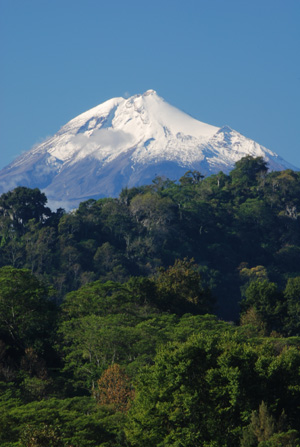 The Mexican Cloud Forest is one of the world's most threatened habitats. The Francisco Javier Clavijero Botanic Garden is working to restore part of this forest to its natural state.

Read about on-going botanic garden restoration projects here

View more images of botanic garden restoration projects here

Download the full press release here

Quotes about the Ecological Restoration Alliance:
"At no other point in history have plant diversity and restored habitats been more important for human welfare. This is why the Royal Botanic Gardens, Kew has partnered with BGCI to lead the effort to bring together botanic gardens across the world to increase efforts to restore the rapidly disappearing plant diversity on which all our lives depend.
"With our combined expertise in plant diversity, botanic gardens are uniquely positioned to lay the foundation of a worldwide restoration programme that will help ensure plant communities are resilient moderators of climate change." Professor Stephen Hopper, Director (CEO & Chief Scientist), the Royal Botanic Gardens, Kew
"Tree planting schemes in many parts of the world fail to protect or restore natural plant diversity. Our new Alliance will address this missed opportunity ensuring that diverse plant-rich habitats are recreated incorporating endangered species that would otherwise be lost." Sara Oldfield, Secretary General, Botanic Gardens Conservation International
"Poverty and conservation are poor bedfellows. The challenge in Africa is to demonstrate that forest conservation can create wealth. Forest clearance provides immediate and transient gain for a few but long term poverty for the majority as rivers dry up, soils deteriorate and resources diminish". Dr Mark Nicholson, Director, Brackenhurst Botanic Garden, Kenya.
"We are in no doubt about the enormity of the task of restoring plant habitats - it cannot be achieved except at great costs and through the collaboration of many players. But if we do not launch this effort now the option to do so in the future may already have been lost". Dr Stephen Blackmore CBE FRSE, Regius Keeper and Queen's Botanist, Royal Botanic Garden Edinburgh
"Successful conservation of biodiversity worldwide will require us to become increasingly effective in ecological restoration. I welcome the launch of this new alliance as an excellent way of combining expertise, knowledge and resources of a range of major organisations to ensure that not only can we multiply our individual efforts but also to ensure that we combine our skills and resources to achieve the most urgent priorities in ecological restoration". Dr Peter Wyse Jackson, President, Missouri Botanical Garden
Tropical ecosystems contain the vast majority of our planet's biodiversity and are the heart and soul of our planet's climate system. Over the past several decades we have made huge advances in understanding these complex systems and how to restore them so they continue to provide essential ecosystem services and remain safe refugia for endangered species. The formation of this Alliance is a critical step forward that we should all celebrate." Chipper Wichman, Director and CEO, National Tropical Botanical Garden, USA.