Global Strategy for Plant Conservation under review at Convention on Biological Diversity meeting
8 May 2012
The Global Strategy for Plant Conservation was discussed at the 16th meeting of the Convention on Biological Diversity's (CBD) Subsidiary Body for Scientific, Technical and Technological Advice (SBSTTA 16) in Montreal last week.
Generally delegates, who included a wide range of government representatives, mainly from Parties to the Convention, as well as non-governmental organizations, were pleased with progress in implementing the GSPC, particularly the development of the online toolkit.
Discussions surrounding the GSPC were drawn to a close on Thursday, with a number of recommendations now going forward for possible adoption by the Conference of the Parties taking place in October this year in India. They included a call for translation of the GSPC toolkit into the official languages of the United Nations, and a reiteration of the need for Parties to identify national focal points for the GSPC. The recommendations also invite Parties and other governments to engage with partner organizations, including members of the Global Partnership for Plant Conservation (GPPC), to support the development and implementation of GSPC. Also welcomed was the reference to a draft Resolution by the Plants Committee of CITES (Convention on International Trade in Endangered Species of Wild Fauna and Flora), relating to co-operation between CITES and GSPC, which is being submitted for consideration at the next CITES Conference of the Parties.
The recommendations also emphasized the importance of disaggregating information relevant to plant conservation when preparing Global Biodiversity Outlook-4, the forthcoming edition of the CBD's flagship publication.
BGCI organised two side events during the meeting, focussing on capacity building for GSPC implementation and the sustainable use of plants. The GSPC toolkit was demonstrated during the first side event, which also included presentations from a number of other members of the Global Partnership for Plant Conservation (GPPC). These presentations served to highlight the wide range of capacity building initiatives that are being undertaken by the GPPC. Copies of these presentations will be made available on the GSPC toolkit.
The side event on the sustainable use of plants brought together BGCI, TRAFFIC International and CONABIO Mexico. BGCI's recent study on Wild Flora for Rural Livelihoods was presented, with a detailed case study from Mexico, while TRAFFIC presented the FairWild Standard as the best-practice tool to provide a global framework verifying ecological, social and economic sustainability of wild collected ingredients and products.
A third side event on the GSPC was organised by Missouri Botanical Garden, together with the Royal Botanic Gardens of Kew and Edinburgh. This event introduced the World Flora on-line, a new collaborative initiative to achieve Target 1 of the GSPC.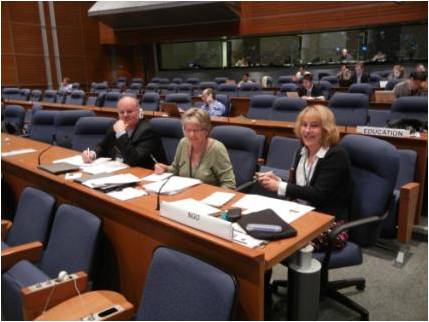 Sara Oldfield (right) and Suzanne Sharrock from BGCI , with Peter Wyse Jackson, Chair of the Global Partnership for Plant Conservation during the GSPC discussions at SBSTTA, Montreal.
Photo: Peter Wilkie