BGCI publishes a 'Guide to the Global Strategy for Plant Conservation'
14 November 2011
BGCI's latest publication is a 'Guide to the Global Strategy for Plant Conservation'. This guide covers the 5 objectives and 16 targets of the GSPC, providing a clear and non-technical introduction to each target.
As well explaining the background and need for each target, the Guide also provides a brief summary of progress to date and a list of relevant sources of additional information.
The Guide is presently only available in English as an electronic document, but efforts are underway to translate and print this attractive and well-illustrated publication.
Download a copy of the Guide here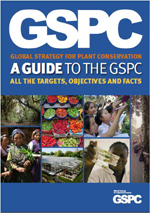 A double-page (A3) spread on each target can also be downloaded here:
Target 1 (An on-line world flora)
Target 2 (Conservation status assessments)
Target 3 (Information, methods and research)
Target 4 (Ecosystem conservation)
Target 5 (Important areas for plant diversity)
Target 6 (Conservation in production lands)
Target 7 (In situ conservation)
Target 8 (Ex situ conservation and restoration)
Target 9 (Conservation of crop diversity)
Target 10 (Invasive alien species)
Target 11 (International trade in endangered species)
Target 12 (Sustainable use of wild plants)
Target 13 (Indigenous and local knowledge)
Target 14 (Education and public awareness)
Target 15 (Capacity building)
Target 16 (Networking)