BGCI signs Memorandum of Understanding with CBD Secretariat
10 November 2011
BGCI's Secretary General, Sara Oldfield and the Executive Secretary of the Convention on Biological Diversity (CBD), Ahmed Djoghlaf have signed a Memorandum of Understanding (MoU) to have an effective partnership on the implementation of the Global Strategy for Plant Conservation (GSPC).
Under the agreement, BGCI and the CBD Secretariat will work together and collaborate in partnership with other members of the Global Partnership for Plant Conservation (GPPC) and the flexible coordination mechanism for the GSPC on the implementation of the updated GSPC 2011-2020 and other relevant decisions of the Conference of the Parties to the CBD, as well as on the promotion of the United Nations Decade on Biodiversity.
A key aspect of the agreement is that BGCI, in collaboration with relevant partners, will coordinate the implementation of GSPC-related activities, including the preparation of publications, outreach material and technical documentation, as well as capacity building and training workshops, the preparation of the GSPC toolkit and other substantive COP requests in the context of the GSPC.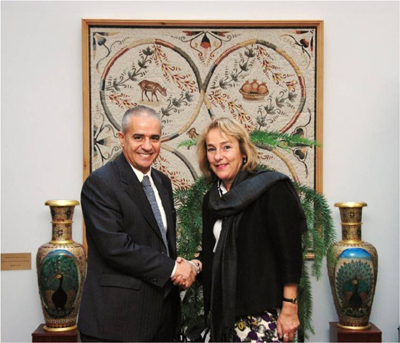 Read more about the GSPC here
Visit the GSPC toolkit here