Join the Photo Campaign for Endangered Species
4 July 2011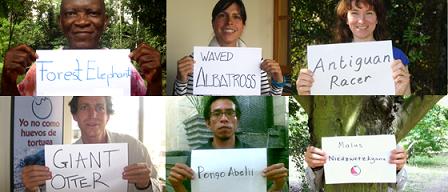 Flora & Fauna International wants you to take part in its campaign. 'In Our Hands' will highlight the plight of endangered species worldwide. People everywhere are asked to upload a photograph of themselves holding a piece of A4 paper with the name of an endangered species written on it.
The photo can be of any quality, even taken on a phone, and can to be uploaded to one or more social media channels (Twitter, Facebook and Flickr) or simply email your photos to inourhands@fauna-flora.org.
BGCI would very much welcome extra plant species to be represented in the In Our Hands photo collection.

It's easy to take part
Anyone can upload a photo – all that's needed is a head and torso photograph of you, landscape preferably, holding in your hands a white A4 sign, with the name of an endangered species hand written in texta/marker pen.
Interesting backgrounds would be brilliant, but not necessary.
FFI have asked staff and partners across the world to kick off In Our Hands by submitting photos of themselves.

Learn more about this at http://www.fauna-flora.org/news/in-our-hands/