Birds and bats in your botanic garden?
28 June 2011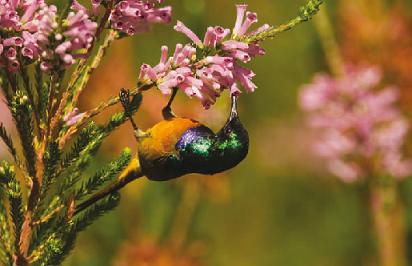 Photo: Orange-breasted Sunbird feeding on the flowers of Erica verticillata in Kirstenbosch NBG (Mark Anderson) taken from 'Havens of Biodiversity by SANBI .

BGCI would like to know about birds and bats in botanic gardens, and any guides about them which you may produce.
There are some excellent guides to birds in botanic gardens. For example, the South African National Biodiversity Institute (SANBI) publish several guides and checklists (examples listed below).
If you publish anything similar then please contact us so we can share this with other botanic gardens. We published an article in BG Journal Volume 5(2), in July 2008 entitled, 'National Botanical Gardens: South Africa's urban conservation refuges' which described the importance of wildllife in South African botanic gardens.

BGCI will be holding a display and taking examples of botanic gardens work on birds and bats to BirdFair. BirdFair which is organised by two of the UK's largest wildlife charities, is a popular event for all things ornithological from 19-21 August at Rutland Water in England. For more information see: http://www.birdfair.org.uk/

We look forward to hearing from you, contact us via email: info@bgci.org
Thank-you.