New BGCI Report: Botanic Gardens, Endangered Trees and Reforestation in Africa
16 March 2011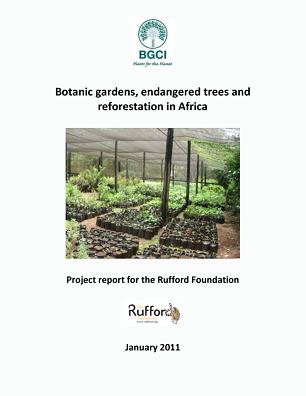 Commenting on the publication of 'Botanic gardens, engangered trees and reforestation in Africa', BGCI's Director of Global Programmes Suzanne Sharrock said:
"As part of our continuing efforts to support botanic gardens in Africa, BGCI has recently completed a report on the role of botanic gardens in DRC, Kenya and Uganda in the conservation of endangered tree species."
The report concludes (page 21):
'Botanic gardens in DRC, Kenya, and Uganda are collectively growing over 30 of the tree species that are included in the IUCN Red List as globally threatened. They are thus contributing significantly to the ex situ conservation of these species with both plant material and expertise currently or potentially available for reintroduction to the wild. In addition they grow a wide range of other indigenous tree species that have potential for use in forest restoration and other forms of tree planting schemes.
'In order to take on a wider role in forest restoration, botanic gardens in Africa need to form or renew partnerships with forestry agencies, NGOs and the private sector. The new structures being developed for REDD implementation provide an opportunity to do so but the extent to which the institutional arrangements are available for participation are variable. The REDD debate is political and complex and botanic gardens may wish to consider the extent to which they get involved either in practical projects or in monitoring and capacity building. There is also great potential to get involved in projects of the voluntary carbon market.'
BGCI is grateful to the Rufford Foundation for support for this work.
Copies of the report can be downloaded here (PDF)