2010 Catalogue of Life Annual Checklist launched
7 April 2010
The 2010 Catalogue of Life Annual Checklist was launched on 1st of April. It is available on Catalogue of Life and Species 2000 websites.
The Catalogue of Life is the most comprehensive and authoritative global index of species currently available. It consists of a single integrated species checklist and taxonomic hierarchy.

This year's edition contains 1,257,735 species from 77 databases.
Ten new databases joined the project since the last year edition:
- Brassicaceae species checklist and database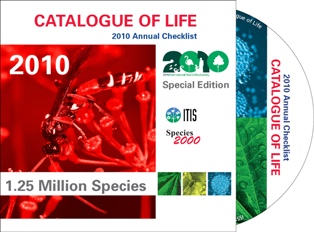 - Early Land Plants Today (liverworts and hornworts)
- Global Compositae Checklist (in 4D4Life project)
- Global Species Database of Salticidae (Araneae)(in 4D4Life project)
- Moss Bug Base
- PhytoseiidBase
- Neotropical Freshwater Crabs Catalogue
- New Zealand Inventory of Biodiversity
- Taxapad Ichneumonoidea and
- TenuipalpidBase.


This year's edition is dedicated to the International Year of Biodiversity and endorsed by the UN Convention on Biological Diversity as part of its Global Taxonomy Initiative (GTI) and the
Global Strategy for Plant Conservation
(GSPC) Target 1.
An additional 3,500 copies are being distributed by the CBD at SBSTTA in Nairobi, Kenya and at the COP in Nagoya, Japan.