Botanic work to develop in Thailand
22 December 2009
Scottish scientists at the forefront of plant research and conservation in Thailand were given a welcome boost this week when formal links were forged between the
Royal Botanic Garden Edinburgh (RBGE) and the Asian Kingdom's largest botanic garden.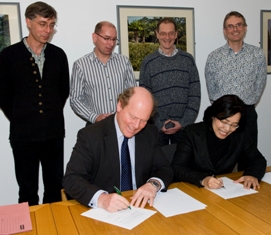 RBGE's Director of Horticulture, Dr David Rae and Dr Kongkanda Chayamarit, the new Director of
Queen Sirikit Botanic Garden (QSBG) in Chiang Mai, jointly signed a Memorandum of Collaboration which means the two organisations will now work more closely together.
Dr Rae said:
"RBGE is already doing work in this very important part of the world so it is very sensible for us to have close links with QSBG. The collaboration will be of great benefit to both organisations, particularly in science and horticulture.''
Dr Chayamarit commented:
"This is an important step forward in strengthening the partnership between our two organisations. By formalising our working relationship we can look forward to fruitful long-term projects.''
The formalities at RBGE were welcomed by botanists Dr David Middleton, Dr Stuart Lindsay and Dr Mark Newman who are already involved with ongoing initiatives in Thailand, including a Leverhulme Trust funded project to develop a user-friendly web-accessible identification tool for the 670 species of ferns that have been found there. This is more than ten times the number of species found in Scotland. A comprehensive information system on Thai ferns, with photographs of hundreds of species, will eventually be made available on the RBGE website.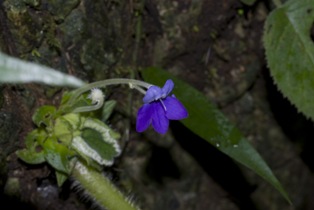 Also a focus of the botanists' fieldwork and research is a family of plants that can be found on many a British windowsill, Gesneriaceae, more commonly known as the African Violet family. Many new species have been found in Thailand - like this
Petrocosmea
seen in the photo on the right - particularly on limestone mountains, lots of which are inaccessible and may harbour many more undiscovered species.
Dr Middleton, who has several on-going projects in Thailand, commented: "
RBGE has had a long involvement in botanical research in Thailand. The Flora of Thailand Project (a project to completely document the tremendous plant diversity in Thailand) was initiated in 1965 by botanists including the late Bill Burtt of RBGE. It has been gaining momentum in the past few years and this Memorandum of Collaboration will no doubt be a great catalyst for keeping this and other Thai projects moving forward.''
Images (C) Royal Botanic Garden Edinburgh