ENSCONET Seed Collecting Manual for Wild Species available
24 September 2009
A Seed Collecting Manual for Wild Species, published by the European Native Seed Conservation Network (ENSCONET), is now available online. This publication aims to promote high standards of seed collecting, maximum capture of genetic diversity and improved longevity of seed collections. Seed banking experts from across Europe collaborated to document best practise protocols for the collection of seed from wild species for ex situ conservation and research use. Before final publication, the protocols were extensively tested during several field seasons. Improvements have been made by ENSCONET partners and external arbiters.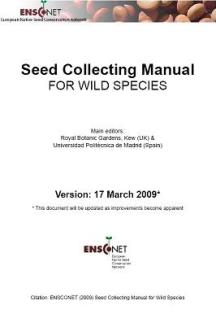 A Collecting Passport Form is provided to facilitate data collection in the field and therefore maximise the usefulness of seed accessions. In addition to the English version, the Seed Collecting Manual will soon be available in Spanish, French, German and Greek.
ENSCONET (www.ensconet.eu) is a Framework Six Project which runs until October 2009. The purposes of ENSCONET are to improve quality, co-ordination and integration of European seed conservation practice, policy and research for native plant species. It aims to assist EU conservation policy and the EU's obligations to the Convention of Biological Diversity and its Global Strategy for Plant Conservation. In addition to the Seed Collecting Manual for Wild Species, three further products, "Curation Protocols and Standards for Seed Banking", "ENSCOBASE" (publically accessible database of ENSCONET holdings and related data) and a Virtual Seed Bank Tour have also been released and are available via the website.
For more information please contact the ENSCONET co-ordinator j.mueller@rbgkew.org.uk