Beer bottle pavement walkway installed at the Moreton Arboretum
10 September 2009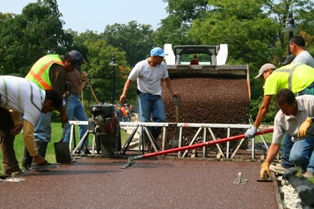 This week crews poured a 1,000 square foot walkway near the Morton Arboretum's Thornhill Education Center made of crushed, recycled beer bottles, other glass and granite.
The Morton Arboretum is testing this new porous pavement as part of a commitment to protecting trees and the environment.
"We are constantly looking for more sustainable techniques, systems, and products" said Kris Bachtell, Arboretum Director of Collections and Facilities.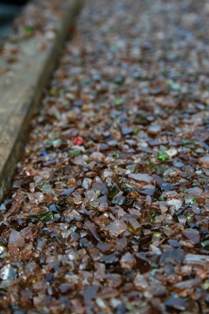 Only a handful of Chicago-area locations have installed the cutting-edge material, and the Arboretum is proud to be on the leading edge of efforts to test it, Bachtell says.
Porous materials, such as pavement or certain bricks, help the environment by trapping dirt and other pollutants, thereby keeping them out of the groundwater. On a traditional surface such as asphalt, these pollutants are usually swept away by fast-moving rainwater, and deposited into storm drains, detention areas, and streams.
Additionally, porous pavement can actually reduce the 'heat island' effect by trapping and mitigating heat, rather than reflecting it, as a blacktop surface does. Such reduced heat in the pavement and surrounding soil is beneficial to tree roots.