Universal DNA barcode proposed for plants
19 August 2009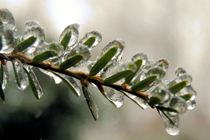 An international team of scientists has agreed on a DNA 'barcode' for the identification of plant species, paving the way for the tracking and safeguarding of biodiversity in the developing world.
Researchers have been working for years to identify a stretch of plant DNA that is common to all plants but sufficiently difference for each species to allow identification. A barcode for animals was agreed in 2003.
52 scientists from ten countries proposed the combined use of two genes — rbcL and matK. They made their recommendations in the Proceedings of the National Academy of Sciences.
James S. Miller, dean and vice president for science at the New York Botanical Garden, which is collecting barcode data from ten regions of the world, has said that plant genes are less variable between species than animal genes are, making it more challenging to differentiate between species.
The researchers compared the effectiveness of using seven genes to identify plants. They found that a combination of rbcL and matK could identify a species in 72 per cent of cases and determine the species group in the remaining samples.
"These genes aren't perfect, but they're a start," says Miller.
Miller says a universal plant barcode will have many uses — from cataloguing and preserving biodiversity to tracking illegal logging.
"Scientists can also use the barcode to advance our knowledge in plant biology," he adds. "And this will impact developing countries where the vast majority of trees are."