Wildlife crisis worse than economic crisis
7 July 2009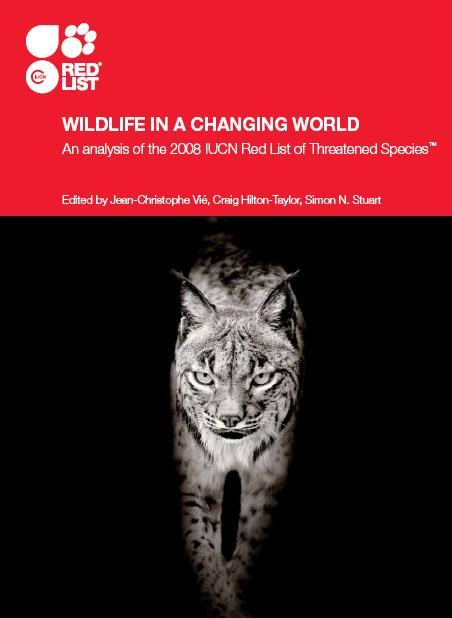 The new IUCN report, 'Wildlife in a Changing World – an analysis of the 2008 IUCN Red List of Threatened Species', shows that the 2010 target for reduction of biodiversity loss will not be met.
Says Jean-Christophe Vié, Deputy Head of IUCN's Species Programme and senior editor of the publication. "It's time to recognize that nature is the largest company on Earth working for the benefit of 100 percent of humankind – and it's doing it for free. Governments should put as much effort, if not more, into saving nature as they do into saving economic and financial sectors."
The report analyses 44,838 species on the IUCN Red List and presents results by groups of species, geographical regions, and different habitats, such as marine, freshwater and terrestrial.
It shows 869 species are Extinct or Extinct the Wild and this figure rises to 1,159 if the 290 Critically Endangered species tagged as Possibly Extinct are included. Overall, a minimum of 16,928 species are threatened with extinction. Considering that only 2.7 percent of the 1.8 million described species have been analysed, this number is a gross underestimate, but it does provide a useful snapshot of what is happening to all forms of life on Earth.
"Think of fisheries without fishes, logging without trees, tourism without coral reefs or other wildlife, crops without pollinators," says Vié. "Imagine the damage to our economies and societies if they were lost. All the plants and animals that make up Earth's amazing wildlife have a specific role and contribute to essentials like food, medicine, oxygen, pure water, crop pollination, carbon storage and soil fertilization. Economies are utterly dependent on species diversity. We need them all, in large numbers. We quite literally cannot afford to lose them."
"The report makes for depressing reading," says Craig Hilton Taylor, Manager of the IUCN Red List Unit and co-editor. "It tells us that the extinction crisis is as bad, or even worse, than we believed. But it also shows the trends these species are following and is therefore an essential part of decision-making processes. In the run-up to 2010, the global community should use this report wisely to address the situation."
"Conservationists are often considered as alarmists but we need to continue to alert decision-makers to the risk of inaction and the need to give up short term political strategies solely based on economic results," says Vié, again. "As shown by the economic and financial crisis, people who raise warning flags should be listened to. Wildlife needs an increased level of attention and our society needs to undertake major changes to safeguard its own future."
BGCI has published Red Lists of Oaks, Magnoliaceae and trees of Central Asia. Find out more here. Red Lists of Rhododendrons and Acers are on the way. Watch this space!